Specs for an Ariens ST7524E
The Ariens ST7524E walk-behind snow blower features six forward speeds and two speeds in reverse. This model provides manual controls to adjust the speed, chute and chute deflector.
Power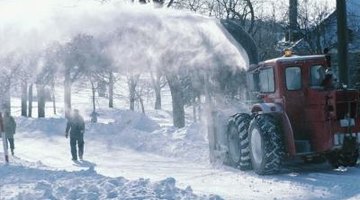 Equipped with a 7.5 horsepower Tecumseh engine, the Ariens ST7524E has the capacity to idle at 3,600 revolutions per minute. It features two starting options: a pull-cord and a 120-volt electric start button. The fuel tank holds approximately 2.5 quarts of gasoline.
Mechanical
The 12-inch impeller provides a maximum speed of 1,200 revolutions per minute. The auger, which rotates through the snow and feeds it to the impeller, measures 11 inches and has a maximum speed of 120 revolutions per minute. The snow enters the chute, which features a 195-degree rotation.
Weight & Dimensions
The Ariens ST7524E snow blower weighs 160 pounds and measures 44 inches high, 53 inches long and 26.5 inches wide. It will clear a snow path measuring 24 inches wide and travels on two 13-inch pneumatic tires.
References
Writer Bio
Tabatha Smith began freelance writing in 2010 concentrating in the areas of personal finance, loans, education, nutrition and physical fitness. Smith previously worked as an administrative assistant in the medical field. She holds an associate degree in liberal arts from Rochester Community College in Minnesota. Her hobbies include gardening, woodworking and camping. Smith also volunteers at the local pet rescue shelter in her spare time.
Photo Credits
Hemera Technologies/Photos.com/Getty Images
More Articles