What Paint Is Suitable for Plastic?
If you plan to paint over a plastic material, it's important to choose a suitable type of paint. Fortunately there are many choices on the market today for a variety of materials, including plastic. If the item is a smaller product, the Behr Ultra is an excellent choice. However, you might find it easier to use spray paint if the item you are painting is a larger, more complex item such as furniture.
Behr Ultra Paint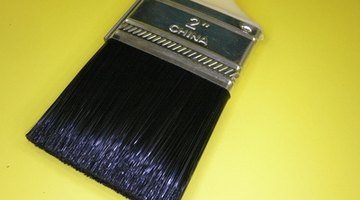 Behr Premium Plus Ultra Exterior Paint includes a paint and primer in one. This paint offers great coverage in addition to protection from severe weather; this is important if the plastic material you are painting is for outdoor use. Not only is Behr Ultra suitable for use on plastic materials, it also comes in a wide variety of colors.
Krylon Spray Paint
Krylon offers a spray paint product suitable for use on plastic; the Krylon Fusion for Plastic Spray Paint bonds easily to most plastics, does not require a primer, and comes in many different colors.
Rust-Oleum Spray Paint
Rust-Oleum offers another spray paint product that is suitable for use on plastics. Rust-Oleum is long-lasting and can be used for indoor or outdoor use, however this item offers a smaller variety of color choices.
References
Writer Bio
Rebecca Blackburn began writing professionally in 2006. Her writing has been featured in the University of Central Florida Counseling Clinic handbook. Blackburn has a Bachelor of Arts degree in legal studies and a Master of Arts degree in marriage and family therapy from the University of Central Florida.
Photo Credits
More Articles