Reflective Paint Options
Night driving can seriously impair a driver's vision. As a homeowner, property manager or a cautious citizen, take action to prevent damage to your property or yourself with the use of reflective paint.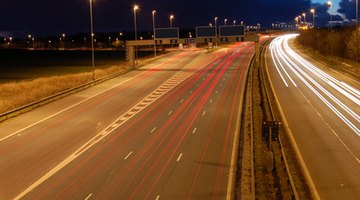 Marking bicycles, helmets, signs, mailboxes, address numbers, barriers, driveways and curbs with paint that reflects a car's headlights with bright, white light is an important step to protecting your property or yourself against poor nighttime visibility.
RustOleum Reflective Finish Spray Paint
For smaller jobs, a can of reflective spray paint may be all you need. RustOleum's Reflective Finish Spray has a semi-transparent finish and is suitable for indoor and outdoor use on plastic, metal, wood, masonry and concrete. Unlike other reflective paints, this paint will not change the color of the surface you spray it on, so if you like the way your mailbox looks now, this may be your best bet.
US Reflector Sphere Bright
US Reflector makes Sphere Bright in four different formulas depending on your needs. Cans of Sphere Bright aerosol have a light gray acrylic paint base and come in 12-ounce cans. One 12-ounce can should coat 18 square feet. Sphere Bright is also available in 1-gallon, 5-gallon and 55-gallon drums. The non-aerosol form is available in light gray, charcoal, green, blue and maroon. Sphere Bright is suitable for use on metal, asphalt, plastic, wood, cement and glass. This product increases day and night visibility, even when wet, and is perfect for larger projects like curbs and parking areas, since it is available in much larger quantities.
Ames' Reflective Safety Paint and Coating
Ames' Reflective Saftety Paint and Coating is a thick safety coating using beads in and on top of the paint to reflect light. The coating is highly elastic, resists peeling and is suitable on most surfaces. This paint adheres to metal, wood, asphalt and concrete. It is environmentally safe, cleans up with water, is fast drying and UV stable. Available in clear, blue, gold, green, orange, red, silver and yellow.
Liquidreflector
Similar in application to the Ames' reflective coating, Liquidreflector is an acrylic based paint with glass beads suspended in it. Liquidreflector also has mica in the paint for additional reflectivity. The two-part kit also comes with additional glass beads which you can apply on top of the wet paint to make it even more reflective. A brush and extra glass beads are included with every order, and the paint is available in white, red, green, yellow and blue. Liquidreflector is suitable for use on wood, plastic, PVC, concrete and metal, and comes in 5-, 16- and 32-ounce containers.
References
Writer Bio
Based in Austin, Texas, Carrie Burns has been writing professionally since 2004, primarily ghostwriting corporate white papers and reviewing local theater productions. She has also spent time devising new works with cutting-edge theater ensembles. Burns holds a Bachelor of Arts in theater from Loyola Marymount University in Los Angeles.
Photo Credits
motorway at night image by Jeff Dalton from Fotolia.com
motorway at night image by Jeff Dalton from Fotolia.com
More Articles