How to Cut a Fluorescent Lighting Lens
The acrylic lens covering a fluorescent light fixture protects the bulbs of the fixture from damage and softens the light emitted from the fixture. The lens either rests inside the flanges of a fluorescent fixture or pushes into clips resting on the bottom of the fixture.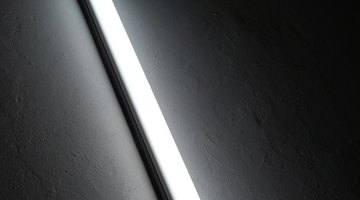 Cutting the thin acrylic fixture lens allows you to custom-fit the lens for a variety of fixture types and sizes.
Remove the old lens from the fluorescent light fixture.

Set a new lens -- textured side up -- on a firm work surface. Place the old lens on top of the old lens. Align the two sides of the two lenses.

Apply pressure to the old lens to keep it in place.

Set the point of a utility knife blade on the new lens. Drag the knife blade along the new lens using the edge of the old lens as a guide. Score along the other side of the lens.

Remove the old lens. Flip over the scored lens. Pull the end of the lens up to snap the lens on one of the score lines. Snap the lens on the other score line.

Install the cut lens in the fluorescent light fixture. Score the lens to trim it if it does not fit in the fixture.
References
Photo Credits
Light image by ladymodem from Fotolia.com
Light image by ladymodem from Fotolia.com
More Articles