Lemon Juice Mold Removal
The environmentally aware use "green" alternatives for many chemical products, including household cleaners. But for the toughest cleaning challenges such as eradicating mold and mildew, the temptation to pull out the bleach still exists.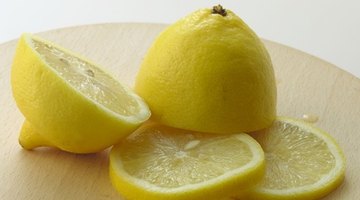 Resist that urge and instead try one of Mother Nature's best mold-killers -- lemon juice.
Lemon Juice
Lemon juice is a natural germ killer and contains about 5 percent acid, making it both effective and environmentally friendly in the battle against mold. Lemon juice is also less harsh and easier to clean up than bleach. Its smell is more pleasant than vinegar, and it is cheaper and easier to find than tea tree oil.
Variations
Lemon juice is often used undiluted for advanced mold problems, but it is also effective when diluted or mixed with other cleaning agents. Fill a spray bottle with half lemon juice and half water for a handy mold and mildew-killing spray. Lemon juice blended with salt or borax will create an antibacterial paste that can be used throughout the home. Heating pure or diluted lemon juice can increase its effectiveness.
Uses
Lemon juice will kill mold or mildew on shower curtains, garbage disposals, fabrics and carpet. Damp basement walls and bathroom surfaces also respond well to a lemon juice treatment. Spray either pure or diluted lemon juice on the surface and let set it for ten minutes before washing the surface with warm, soapy water.
References
Writer Bio
Jill Brown has been writing and editing technical content since 1998. In 2000, ASM International published a supplement to "Advanced Materials & Processes" called the "Directory of Materials Properties Databases," which Brown compiled, wrote for and edited. Brown earned her Bachelor of Science in geology from Cleveland State University and has taken graduate coursework in environmental engineering.
Photo Credits
lemon image by Maria Brzostowska from Fotolia.com
lemon image by Maria Brzostowska from Fotolia.com
More Articles