Urethane Drying Problems
Normally taking about an hour to dry, urethane can dry improperly under certain adverse environmental, application and product quality conditions. This can leave your wood with bubbles, unevenness and oily residue.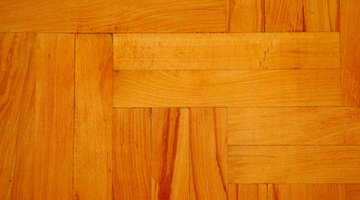 Remedying these problems with mineral oil or sandpaper is simple enough, but avoiding them altogether is even simpler.
Environment
Factors of temperature and humidity affect urethane drying tremendously. Urethane dries poorly in high humidity and extreme temperatures. On each urethane container are recommended heat and humidity ranges that should be adhered to for best results.
Application
Urethane applied in too thick a coat may not dry completely, producing a sticky, tacky feel to the touch. Urethane applied over an already oily surface or to perfectly smooth bare wood might not dry well, either. Using blow dryers or heat guns to accelerate drying time can lead to blotches, uneven patches and bubbles in the finish.
Product
Old or partly used urethane may not work properly and could result in an uneven and unsightly finish, as can using urethane thinners or neglecting to stir properly before applying the finish.
References
Writer Bio
Based in Maine, Sage Kalmus has written extensively on fitness, nutrition, alternative health, self-improvement and green living for various websites. He also authored the metaphysical fiction book, "Free Will Flux." Kalmus holds a Bachelor of Science from Boston University's College of Communication and is a Certified Holistic Health Counselor with special training in Touch-For-Health Kinesiology.
Photo Credits
texture of wooden floor image by Elnur from Fotolia.com
texture of wooden floor image by Elnur from Fotolia.com
More Articles