How to Cut a 45 Degree Miter in a Drip Edge
An installed drip edge keeps water from working its way under the edge of roofing material. When water backs under roofing, it absorbs into the wood sheathing and trusses supporting the roof. This causes the wood to break down and for mold to develop within the material.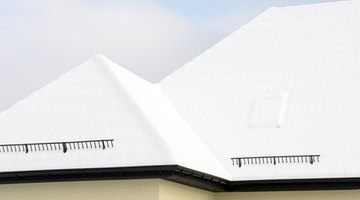 Things You Will Need
Combination square
Aviation snips
The chances of water penetrating the roofing material increase at a corner where two pieces of drip edge meet. Properly cut and installed 45-degree corners eliminate water from entering a vulnerable area.
Place a length of drip edge—mounting flange down—on a flat surface.

Mark the cut location on the bent edge facing you with a pencil. Set the flat edge of a combination square base against the bent edge. Slide the square to align the combination square blade with the cut mark. Pull your pencil along the aligned edge to make a reference line across the front face of the drip edge. Repeat the process to mark a straight line on the bottom face of the drip edge.

Set the 45-degree edge of the combination square base on the bent edge. Align the connecting point of the combination square base and blade with the cut length mark. Slide the pencil along the blade of the combination square. Draw a 45-degree angle down the opposite face of the drip edge.

Cut down each mounting flange and across the lines marking the face of the drip edge with aviation snips. Do not cut through the bent edge where you held the base of the combination square.

Fold the drip edge to slide the straight cut side under the 45-degree cut to form a 45-degree mitered corner.
References
Photo Credits
roof image by Andrzej Włodarczyk from Fotolia.com
roof image by Andrzej Włodarczyk from Fotolia.com
More Articles