What Is a Locked Open Ball Valve?
Ball valves control the flow of oil or gas with a small turn of the ball, either with a handle or an actuator. Ball valves are used in every shut off/turn on operation ranging from cheap valves for domestic use, to huge valves for industrial applications that cost thousands of dollars.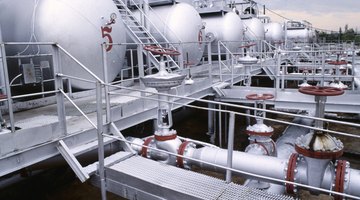 Locked Open
A locked open ball valve is a ball valve that uses a locking mechanism to lock the valve into place in an open position. By using a lock, a user ensures that the valve does not close by mistake when it should be open.
Necessity
People working in the vicinity of pressure-relief devices should be protected from malfunctions. Therefore, the valve should function properly at all times. The locking function ensures that this safety objective is met because the valve cannot accidentally malfunction.
Advantages
Frequent checking of these valves is necessary to ensure they are functioning properly without closing down the entire process -- which is time-consuming and expensive. Commonly, block valves are installed locked in the open position so that they can easily be checked while the process is still running.
References
Writer Bio
Danielle Eickenhorst has been writing professionally since 2007, working as a freelance writer and owner of The Author's Emporium, a source for web content utilized by authors worldwide. She is an ongoing writer for Demand Media, Catalyst Creative Designs and other websites, providing articles and other content. Danielle holds a Bachelor of Arts from Fontbonne University.
Photo Credits
Hemera Technologies/Photos.com/Getty Images
Hemera Technologies/Photos.com/Getty Images
More Articles