How to Repair a Bathtub Drain With a Handle You Push Down
The bathtub drain is often connected to a drain lever that controls the plug of the bathtub. The lever lifts the drain up and down to trap or release water in the tub. Moving parts inside the drain may fail after a period, preventing the drain from moving.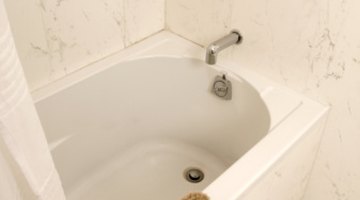 A repair may require you to take off the stopper and reattach the parts, or remove the old parts and replace them with a new stopper system.
Unscrew the old overflow plate where the lever to the bathtub drain is located. Pull off the cover. Check to see if the linkage is attached. Attach the linkage by sliding the catch onto the end of the lever. If it is attached and not working, pull the cover off and remove the linkage with it.

Pull up the drain at the bottom of the tub. Check to see if the linkage is attached. If not, attach it. If it is, pull out the whole assembly.

Attach the lower linkage on to the drain plunger and tighten it down using a pair of pliers.

Slide the overflow plate into its hole with the linkage attached. Rotate the locknut to extend the linkage about 1/4 inch.

Reinstall the plunger to the drain and lift the lever. The drain should close.