How to Remove Latex Paint From Polyester Clothing
Latex paint can be a nice decorative accent to clothing, but sometimes it is not meant to be. Thankfully, it can usually be removed from polyester with minimal hassle. Latex paint can be removed with strong detergent and water if action is taken within the first several hours of the accident.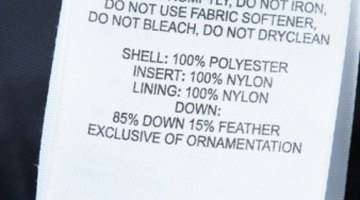 Things You Will Need
Detergent
Rubbing alcohol
However, according to Ohio State University, removing latex paint from any type of clothing is difficult after six to eight hours.
Wet Removal
Grab excess paint with a napkin, paper towel or rag and pull it off the fabric. Do not attempt to blot the paint, as this will spread the stain. Rubbing will also spread the stain and push it deeper into the fabric.

Soak the affected clothing in cold water for five to 10 minutes after removing globules of paint. Cold water will prevent the molecules in the latex paint from expanding and causing further damage.

Prepare a tub or washing machine by filling it with cool water and detergent. Use the same amount of detergent you would normally use for washing.

Wash the affected polyester clothing as you normally would. Do not combine other clothing with the stained clothing.
Dry Removal
Test an unseen area of the polyester clothing, such as the inside of a waistband, for colorfastness by placing a few drops of rubbing alcohol on it. If, after five minutes, no color has faded, proceed with the paint removal process.

Soak the dried latex paint stain in rubbing alcohol for five minutes after chipping away excess paint. If the garment is too large or awkwardly shaped to be accommodated on a small tray or in a bowl filled with rubbing alcohol, pour rubbing alcohol directly on the garment. Since rubbing alcohol evaporates quickly in most environments, several applications may be necessary.

Wash the garment as you normally would, keeping it separate from other items of clothing until after it has been laundered.
References
Writer Bio
A professional writer since 1994, Eva Talent was trained as a journalist by the U.S. Army. She received two Army Commendation Medals and an Army Achievement Medal for journalistic excellence. Her press releases are frequently featured on the websites of the Department of Defense and the Army. Talent holds a Bachelor of Arts in psychology from the University of Michigan.
Photo Credits
Jupiterimages/Photos.com/Getty Images
Jupiterimages/Photos.com/Getty Images
More Articles