How to Wrap a Wood Beam
A wood beam is wrapped to give the wood beam a "skin." This procedure is used by professionals in the woodworking industry for decorative and remodeling projects. Wrapping older existing beams can be done by creating a box beam or a wrap, using other materials.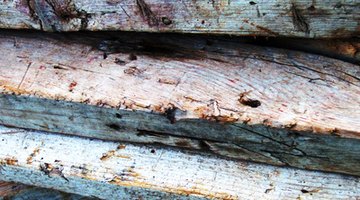 Things You Will Need
Drywall
Old newspaper
Chemical fume mask
Trowel tool
Scraping tool
Square corner bead
Taping and edge coating
Peel and stick beam wrap
Galvanized steel
Copper wrapping
Electric drill and drill bit
These wraps enhance the character of the natural wood and add strength to the wood as part of the structural support within old houses, new homes and outdoor structures, such as barns.
Use drywall to wrap a wood beam. Spread old newspaper down underneath the beam, if it is not already mounted on a wall or ceiling area. Ventilate the area to eliminate fumes. Put on a chemical fume mask. Laminate the wood beam with drywall and a trowel tool, or any type of scraping tool that can be used to apply and flatten the drywall as you work.

Apply a generous amount of drywall to the tool, and spread on the wood beam evenly, scraping the surface flat as you go. Apply one coat on the entire beam, and apply a second if needed. Use a standard square corner bead to seal in the edges, and apply taping and coating to cover those edges.

Use a wrap with a peel-and-stick membrane, like those sold by construction companies. Many online companies sell rubberized asphalt membranes that add a wrap to the wood, protecting and preventing wood from corrosion, which can eat away at the wood surface. Just unpeel and stick the membrane onto the wood, following directions that come with the peel-and-stick kits.

Wrap wood with galvanized steel over the peel-and-stick membrane for extra protection. Use copper wrapping for an even stronger, more pliable and durable wrap. Copper does not rust as quickly like galvanized steel does, and it is usually more resistant to water than galvanized steel, which makes it ideal for outdoor porch beams.

Measure the beams that will be wrapped in thin sheets of galvanized steel or copper, and it attach to the beam with an electric drill and a drill bit strong and durable enough to drill through metal. Ask what kind of drill and bits to use when purchasing the metal, or follow directions included with purchase. Get the help of a professional sheet-metal worker to wrap your wood beams for you if you are not able to do the job yourself.
References
Writer Bio
Linda Stamberger began writing professionally in 1994, as an entertainment reporter for "Good Times Magazine." She has written online copy for The Volusia Community website and is the author of "Antiquing in Florida." Stamberger studied creative writing at Southampton College, where she won a partial writing scholarship.
Photo Credits
wood image by fafoutis from Fotolia.com
wood image by fafoutis from Fotolia.com
More Articles