How to Engrave on Cement
Engraving on cement or concrete is an economical way to mask imperfections while providing a myriad of design choices to perk up your patio, walkway, garage floor or driveway. Because engraving adds no thickness to existing cement, water drainage is not impacted and doors hung over cement floors or in garage openings will continue to operate as they always have. Engraved cement can be made to look like brick, cobblestone, natural stone and decorative tile. Several engraving techniques are available to you depending upon your comfort and level of expertise with cutting tools.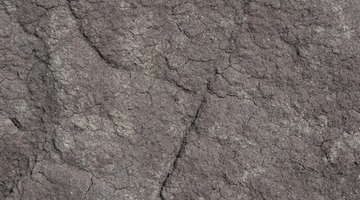 Things You Will Need
Various diamond-tipped cutting tools
Chalk line
Chalk
Grout (optional)
Shop vac
Abrasive blasting equipment
Sand, dry ice or calcium carbonate
Angle grinder
Diamond attachments
Muriatic acid-based etching solution
Paint brush
Templates, stencils or masks
Diamond Cutting
Determine the design you will follow to cut lines and patterns into your cement. These can be found in commercially produced stencils, templates or masks or through patterns of your own design.

Trace your design onto the cement using chalk. For straight lines, snapping a chalk line is best.

Insert a concrete cutting blade into your cement cutting tool. The blades may be from 1/8-inch to 1/4-inch thick depending upon your design. If you will be grouting your cut lines, a minimum cut depth of 1/8-inch is required to provide proper grout adhesion.

Remove cement dust using your shop vac.
Abrasive Blasting
Determine the area of concrete that will be etched away by your abrasive material. This method of surface engraving is appropriate for borders, logos, letters or numbers.

Mask the area that will not be etched using abrasive resistant masks or stencils.

Load the abrasive material into your blasting tool. Abrasion on cement can be performed using sand, dry ice or calcium carbonate.

Remove the top layer of cement using an evenly applied coating of abrasive in a gentle back and forth motion of the spray attachment.

Remove loose material with your shop vac.
Acid Gel Etching
Determine that your cement surface has not been sealed. Apply a test drop of muriatic acid in a corner to see if the concrete is effectively etched. Sealed surfaces may require the blasting technique outlined in Section 2.

Apply your mask or stencil to the area you wish to work.

Apply the acid-based etching solution to the area you wish to etch using your paint brush.

Allow the treated area to sit according to package directions.

Wash remaining acid gel away with an application of warm water. Allow the cement to dry.
Concrete Engraving
Apply your standard or custom-created template to the concrete surface.

Trace the design area using your chalk or snap your chalk line to lay out straight lines.

Place your diamond blade into your angle grinder. Grind the cement surface according to the specifications of your design.

Remove loose material with your shop vac.

Tip

Cutting, sandblasting and etching tools and materials are available for rent at your local rental or home improvement store. Templates and stencils are available at your local craft or art supply store.

Warning

Wear protective clothing, glasses and masks when working with etching chemicals or cutting tools.

Keep children and spectators well away from your work area to prevent possible injury from airborne stone or acid solutions.
References
Writer Bio
Kevin Ann Reinhart, a retired teacher-librarian, has written professionally since 1976. Reinhart first published in "Writers' Undercover" Cambridge Writers Collective II. She has a bachelor's degree in English and religious studies from the University of Waterloo and a librarian specialist certificate from Queen's University and the University of Toronto.
Photo Credits
cement texture image by MAXFX from Fotolia.com
cement texture image by MAXFX from Fotolia.com
More Articles