Square D Breaker Identification
A number of counterfeit breakers have shown up in American homes sporting the trusted Square D logo. Knowing how to distinguish the real breakers from the fakes will safeguard you from inferior products that could endanger your home.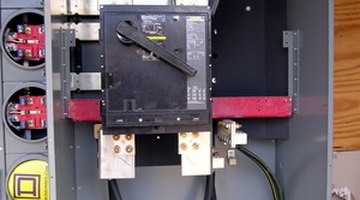 The Lawsuit
In October 2007, a lawsuit was filed against a retailer of Square D breakers for knowingly selling more than 20,000 counterfeit breakers over the course of approximately one year. Since these were sold in the field, no records were made of the transactions, meaning there is no way to track the sales of the inferior products.
Spotting Fakes
Square D breakers have some clear identifiers distinguishing them from the counterfeits. All their breakers have the amp rating on the handle of the switch in white paint. You should see numbers on the handle and they should be in white. The Square D logo should be molded into the side of the breaker. If your logo is not raised, you have a fake. The final identifier is that the real breakers have a yellow chromate mounting clip with the top half visible. If the mounting clip is not semi-golden in color, your breaker is a fake.
What to Do
Fake breakers should be immediately replaced. The Department of Energy (DOE) also maintains a website, the DOE Suspect Counterfeit Items page that tracks fake breakers and provides a contact number and email address to report findings of counterfeits. Since reporting the fakes helps the government trace down sources of dangerous products, it is advisable to do so as soon as possible.
References
Writer Bio
Andy Klaus started his writing career contributing science and fiction articles to Dickinson High School's newsletters back in 1984. Since then, he has authored novels and written technical books for health-care companies such as VersaSuite. He has covered topics varying from aerospace to zoology and received an associate degree in science from College of the Mainland.
Photo Credits
electrical panel switch image by jimcox40 from Fotolia.com
electrical panel switch image by jimcox40 from Fotolia.com
More Articles