Who Makes LG Appliances?
LG is an international electronics company that operates on every continent. Their product line includes portable electronics, TVs and a variety of large and small appliances. LG appliances are sold under the LG brand in the United States and Canada through a number of national retail chains and local distributors.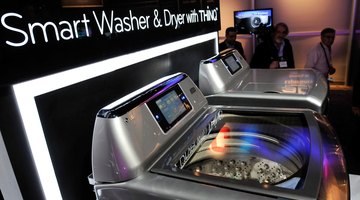 Location and Subsidiaries
LG Corporation is primarily located in Seoul, South Korea. It has 147 overseas subsidiaries and more than 175,000 employees.
Parts and Service
Appliance parts are manufactured by LG and can be ordered directly through LG or affiliated repair centers. Service is offered by licensed service centers.
Environmentalism
Most appliances are manufactured to be water- and energy-efficient. LG also offers a line of environmentally friendly electronics.
Fun Fact
LG was originally named GoldStar, and had a separate chemical division named Lucky. In 1995, it combined the two companies and assumed the name LG.
Other Industries
In addition to appliances, LG manufactures chemicals and provides telecommunication services. LG owns several smaller corporations that operate across the globe.
References
Writer Bio
Rebecca O'Brien has been writing since 2006. She contributes to several online magazines, specializing in politics, technology, parenting and cuisine. She studied marketing and language arts at McHenry County College.
Photo Credits
David Becker/Getty Images News/Getty Images
David Becker/Getty Images News/Getty Images
More Articles