Home Kitchen Fire Recovery
A home kitchen fire upsets more than just your emotions. If your kitchen gets damaged by a fire, think about safety first and then deal with the aftermath in a planned, intelligent manner.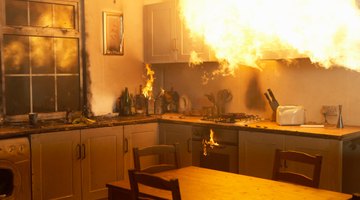 Immediate Action
Be sure of your safety before re-entering your damaged home or kitchen, and watch for smoke, hot spots and dangers from the burned structure and contents, the Federal Emergency Management Agency warns.
Cleaning Up
You will need to clean any salvaged kitchen items thoroughly. FEMA recommends washing cookware and dishes in soapy water and then using a gentle cleaning powder to polish them. Delicate metals, such as brass or copper, require copper polish or salt moistened with vinegar or lemon juice. Appliances likely suffered water damage, so do not attempt to use them unless they clear an inspection by an expert. Most foods would have become unsafe from heat and chemical exposure, the federal Food Safety and Inspection Service notes.
Restoration Plans
FEMA urges caution when hiring a firm promising to restore your home or kitchen after a fire. Get the payment terms clearly up front from the inspection company and your insurer, and know what you are getting from each.
References
Writer Bio
Since 1988, Mary Thomsen has been working on the "Valders Journal," a Wisconsin weekly newspaper. Thomsen has won several awards from the Wisconsin Newspaper Association. She studied print journalism at the University of Wisconsin-Eau Claire.
Photo Credits
Michael Blann/Digital Vision/Getty Images
Michael Blann/Digital Vision/Getty Images
More Articles