How to Tell When Floor Stain Is Dry?
Stain is frequently used to give a wooden floor color and protect it against scratches and other superficial damage. Although staining a wooden floor is a simple process that doesn't take long, it is important to stay off the floor while it dries.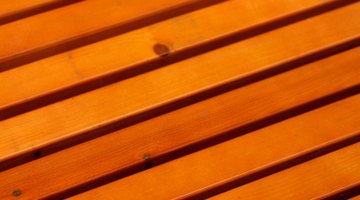 Things You Will Need
Scrap wood
Stain
Paintbrush
Flash light
Walking on wet or tacky stain will damage the coating and leave marks that will require additional coats to cover up.
Paint a spare piece of wood with the stain, using a brush, around the same time you stain the floor. Don't walk on the floor until the stain on the spare wood is completely dry. You can easily feel the scrap wood to see if the stain is ready, because it won't matter if the scrap wood gets smudged.

Turn on a light over the stained floor. If you can see the light reflecting off the floor, the stain is probably still wet and needs more time to dry. The best viewing angle is about 5 feet above the floor and about 2 feet away. While a dry floor will still reflect some light, it will be a bit darker, and the floor won't be quite as shiny.

Use a flashlight to look at the stain from the side to verify it is dry. If the surface looks soft, or you get a lot of light reflection, wait for another hour at least before walking on it. If it's dry, the light will not reflect as much, and the surface will look more solid. Go over the entire floor with your flashlight. Some parts may be dry, while others may be wet.

Touch a corner of the stain with the tip of your pinkie finger as lightly as possible. If it feels hard, see if your nail leaves a mark. If it does, the floor isn't dry yet.

Walk on a small part of the floor. There should be no marks or impressions.
References
Writer Bio
Michael Davidson started writing screenplays in 2003 and has had a screenplay professionally produced. He has also studied martial arts since 1990 and has worked as a licensed security specialist. Davidson has written articles for various websites. He is a graduate of Michigan State University and holds a Bachelor of Arts in advertising.
Photo Credits
Hemera Technologies/AbleStock.com/Getty Images
Hemera Technologies/AbleStock.com/Getty Images
More Articles