How to Get Odors Out of a Sofa
New sofas have chemicals in them that create the "new sofa" smell, while old sofas can smell musty. There are several simple steps to get odors out of a sofa. Kill those odors and enjoy your sofa again.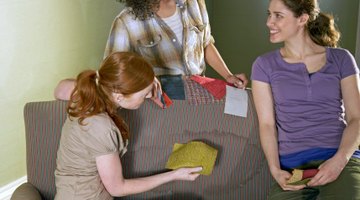 Give your new sofa some fresh air. New sofas contain chemicals such as fire retardants, water repellents, stain repellents and phthalates. Those new sofa smells can make you dizzy or even make you faint. The best way to get odors out of a new sofa is to leave it outside on a sunny day. If you cannot leave it outside, open the windows and run a fan to ventilate. At least remove the sofa's cushion's and hang them outside or close to an open window. Alternatively, use an ozone/ion air purifier. Set it up in the room with your smelly sofa and let it do the work for you.

Wash that sofa according to the manufacturer's instructions. If you can, remove the sofa's cushion covers and machine wash them. Hang to dry. If you cannot machine wash the cushion covers, mix some baking soda and warm water according to the directions on the box. Immerse a cleaning cloth in the baking soda and water and squeeze some out so the cloth is moist, not dripping wet. Scrub the entire sofa with this solution. Baking soda is excellent at absorbing odors. Leave some backing soda in shallow bowls around your sofa for a few days to absorb more of the odors if necessary.

Replace the foam inside the cushions to get odors out of a sofa. You can usually buy new foam straight from the company from where you bought the sofa. If they do not sell replacement foam, find a foam dealer online. Measure the foam cushions and order the proper sizes. New foam equals less odor.

Reupholster to get odors out of a sofa. Reupholstering involves replacing the fabric on the couch. There are companies that specialize in reupholstering furniture. This will allow you to keep your beloved sofa and get rid of those odors. You may even choose a new fabric or color.
Tip
Sprinkle sofa with baking soda and then vacuum. For a thorough cleaning, rent a steam cleaner.
Check out this related video.
References
Writer Bio
Nicole is a writer with nearly two decades of homesteading hands-on and publishing experience. She learned professional cleaning while tending to people's homes. She's written for eHow on home decor, DIY, painting, and cleaning.
Photo Credits
Gary Houlder/Lifesize/Getty Images
Gary Houlder/Lifesize/Getty Images
More Articles