What Is a Half Coupling for Pipe?
A coupling is a connector used to screw two pieces of pipe together using threaded rings. Half-couplings are only threaded at one end. The other end is welded or otherwise fastened to the piping.
Function
Hoses are readily identifiable objects that connect using a half coupling. The threaded end is screwed onto a faucet, while the other end is clamped onto the hose. With piping, one end of a half-couple is screwed onto the pipe, while the other end is made to be tightly inserted, or welded, onto the other end.
Types
Half-couplings come in male and female varieties. The male half-couplings have external threads that the pipe fits over. Female half-couplings have internal threads. The piping is inserted and twisted to secure the connection.
Fun Fact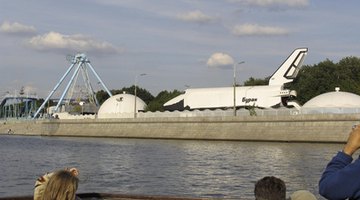 Half-couplings are widely used in the aerospace industry as connectors to pressurized fuel piping. Various space shuttles have often had their launches delayed due to a half-coupling which needed closer inspection for safety reasons.
References
Resources
Writer Bio
For over 10 years Jeff Gatlin has written for many Northern California publications such as the "Hollister Free Lance," the "Gilroy Dispatch," the "Santa Cruz Sentinel" and "Out and About" magazine. Gatlin holds a B.A. in interdisciplinary studies and his 11 years as an English teacher also give him plenty of editing experience.
Photo Credits
Outside Hose image by Janet Wall from Fotolia.com
Outside Hose image by Janet Wall from Fotolia.com
russian space shuttle "buran" image by Yuri Bichkov from Fotolia.com
More Articles