Types of Hose Clamps
In the world of mechanics, different parts, pieces and know-how are all required for different projects. Hose clamps -- also called hose clips -- are used to attach and seal hoses to various equipment, serving automotive, home repair and plumbing purposes.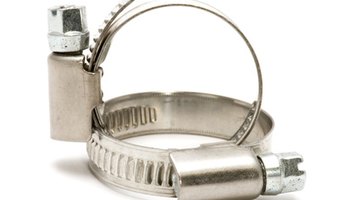 In addition to their various uses, hose clamps come in different varieties.
Ear Clamps
An ear clamp is comprised of a band -- normally stainless steel -- which has been transformed with closing elements referred to as "ears." This piece of metal must be applied over the end of a hose or tube with a special tool called ear clamp pliers. Ear clamp pliers work to permanently deform the clamp around the hose when it's tightened. The tamper-resistant ear clamp also features narrow band widths.
Screw Clamps
Also referred to as worm gear clamps, screw or band clamps are used to attach sections used in domestic water piping. In the United States, screw clamps are made of stainless steel and consist of a band of metal with a screw pattern pressed into it. One end of the band has a screw and, when it is turned, it worms its way around the hose until it is tightened. Screw clamps are also alternately used in the transmission of small amounts of power.
Wire Clamps
Wire clamps are heavy pieces of steel bent into a ring shape and folded over. Holes are then cut on the ends. One end is then attached to a captive nut, and a captive screw is attached to the other end. When placed around a hose, the screw is tightened, and the ends are pushed apart, thus the wire loop around the hose is tightened.
Spring Clamps
Spring steel is a medium carbon steel. Objects made from it return to their original shape after manipulation. For this reason, spring clamps are used on parts such as automotive vacuum hoses and other large, high-pressure hoses. To tighten this type of clamp, pliers are typically used. There are different shapes of spring clamps used with alternate automotive hoses and lines.
References
Resources
Writer Bio
Based in St. Louis, Dionna Harding has been writing professionally since 2009, penning articles and information for various websites. Harding holds a Master of Educational Administration from the University of Missouri-St.Louis.
Photo Credits
two hose clamp image by Aleksandr Ugorenkov from Fotolia.com
two hose clamp image by Aleksandr Ugorenkov from Fotolia.com
More Articles