Uses of 1026 Steel
American Iron and Steel Institute grade 1026 steel is a low carbon or mild steel with a very simple chemical composition. The steel can have a carbon content of up to .28 percent and still qualify as grade 1026 steel according to AISI standards. The carbon content is typically lower than this, however. The steel is relatively inexpensive to produce because it has a comparatively simple composition. Many industries use AISI 1026 steel, as it is easily welded, machined and forged.
Chemistry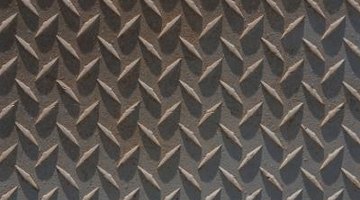 The American Iron and Steel Institute standard states that 1026 steel must have a carbon content of between .22 and .28 percent, a manganese content of between .60 and .90 percent, a phosphorus content less than .04 percent and a sulfur content less than .05 percent.
Shop Steel
AISI 1026 has a simple chemical structure and is easy to weld using most modern welding processes such as MIG and TIG welding. Because of this, 1026 sometimes sees use as general shop steel for various fabrication products. The bar form of 1026 sees use as a structural material, and 1026 bar stock is often used to build frames or as a base material. Round stock 1026 serves to anchors items in the ground. Bird feeder hangers and garden hooks are often made from 1026 and other mild steels.
Tubing
AISI 1026 steel sees use in the production of tubing of various sizes. A coating of oil after production reduces the chances of rust forming. Galvanization will also prevent rust. AISI 1026 tubing serves as a structural material and for short-term plumbing. However, since it is susceptible to corrosion, 1026 tubing is never a long-term plumbing solution.
Parts and Fasteners
AISI 1026 is easily shaped in its cold state using lathes, mills and other tools. Because of these properties, the automotive and construction industries use1026 to produce various steel parts ranging from bolts and fasteners to automobile exhausts. However, since it does not respond to heat treatment because of a lack of carbon, 1026 has some limitations. Items made from 1026 will remain relatively soft. This means 1026 is not suitable to make parts that undergo high levels of stress or require sharpening. The steel bends easily and does not hold an edge.
References
Resources
Writer Bio
Writer, photographer and world traveler James Croxon is a jack of all trades. He began writing in 1998 for the University of Michigan's "The Michigan Times." His work has appeared in the "Toronto Sun" and on defenselink.com and globalsecurity.org. Croxon has a bachelor's degree in English from the American Military University.
Photo Credits
Photos.com/Photos.com/Getty Images
More Articles