How to Clean Chenille Upholstery
Due to its delicate nature, it is important to treat chenille upholstery with care. A gentle touch is necessary for this soft, woven fabric. Despite its delicacy, chenille is also durable, making it a popular choice for upholstery.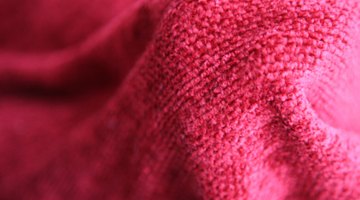 Things You Will Need
Upholstery shampoo
Vacuum cleaner
Vacuum brush attachment
Rubber gloves
Bucket
Sponge
Soft towels
Try to clean your chenille upholstery on a regular basis, and watch for spots and stains, particularly if you have children or pets in your home. Stains should be cleaned immediately to prevent permanent marks.
Make sure you purchase upholstery shampoo designed for hand cleaning or foam cleaning, and not one that requires a steam machine. Check that chenille is included on the list of recommended fabrics for the product.

Remove dirt and debris from your chenille upholstery using the brush attachment of your vacuum cleaner. Pay attention to hard-to-reach areas, such as underneath arm rests. If your armrests or seat cushions are detachable, remove them to make cleaning easier.

Put on rubber gloves, and prepare the shampoo according to the directions. Carry out a pretest on a small area of the chenille to make sure the shampoo will not damage the fabric. Choose an inconspicuous spot such as the underside of a sofa cushion.

Mix the solution to create suds.

Use a clean, dry sponge to apply the suds to a small section of your chenille upholstery, until there is a light, even covering of foam. Blot excess moisture and dirt with a clean, soft towel. Repeat the process until the entire area has been cleaned, and leave it to dry.
References
Writer Bio
C. Giles is a writer with an MA (Hons) in English literature and a post-graduate diploma in law. Her work has been published in several publications, both online and offline, including "The Herald," "The Big Issue" and "Daily Record."
Photo Credits
Jupiterimages/Photos.com/Getty Images
Jupiterimages/Photos.com/Getty Images
More Articles