How to Check the Resistance on a Three-Phase Motor
Three-phase electrical systems are able to send high-voltage current due to the polyphase approach it employs. When testing for continuity and resistance measures in electrical circuits for residential installations, an ohmmeter is generally used.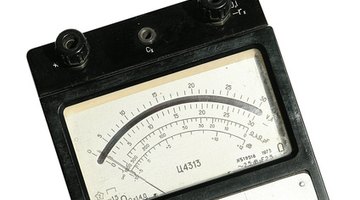 Things You Will Need
Megger
Padlock
Flathead screwdriver
For commercial and industrial purposes, however, the ohmmeter is insufficient. Instead, a megohmmeter, or megger, is used because it can produce the necessary voltage needed to properly travel through the large cables used in commercial and industrial installations. Testing a three-phase motor is quite simple, which means that you can perform this procedure yourself. However, because of the ever present danger of electrical shock, it is advised that you observe strict safety protocols.
Turn off the main breaker to cut off power to the circuit you are testing. Lock the breaker with a padlock as a safety precaution.

Remove the circuit from the motor using a flathead screwdriver.

Test the circuit and motor by placing one megger lead to any of the wires. Touch the other lead to the grounding screw on the motor. Turn the handle and look for a reading between 20 and 30 megohms.

Continue testing by placing one megger lead on a wire and the other lead on a motor winding until you have gone through each wire and winding. Readings between 20 and 30 megohms are normal.
References
Electrician's Pocket Manual"; Rex Miller; 2005
Resources
Writer Bio
Eric W. Thompson began his writing career in 1996 and is now a member of the All-USA Academic Team, having been featured in "USA Today" as one of the top 20 community college students in the country. He is currently taking a break from earning an undergraduate degree in contemplative psychology at Naropa University.
Photo Credits
multimeter image by Aleksey Bakaleev from Fotolia.com
multimeter image by Aleksey Bakaleev from Fotolia.com
More Articles