How to Bundle Cardboard
Cities often require cardboard to be bundled in a specific way in order to be collected for recycling. Check with your city for the specific requirements on shape and size. There are often slightly different requirements for business and residential recycling.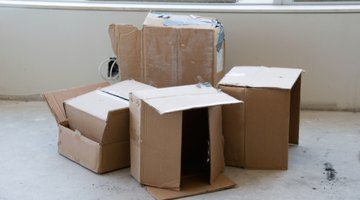 Cardboard can also be bundled for easy storage, transportation or disposal.
Flatten all pieces of cardboard so they lie on top of each other without any spaces.

Cut the flattened cardboard into pieces that fit your city's requirements. This can be done with a box cutter or scissors for thinner cardboard. A common requirement is that the pieces are no larger than 30 by 30 inches, though some states allow the pieces to be larger.

Wrap a piece of plastic or metal twine tightly around the stack of cardboard to keep the pieces together. If recycling, follow the city's guidelines to determine how thick the stack can be. A common requirement is 6 inches or less.