Acrylic Painting Ideas for Beginners
Acrylic paints are often a chosen medium for budding new artists. The paints are non-toxic, water-based and store well. The relatively inexpensive price tag is an added attraction to acrylics. Acrylics are available in plastic bottles, jars and tubes.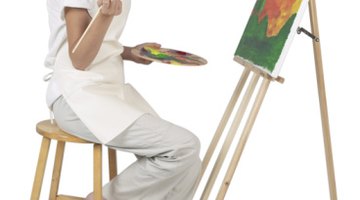 You can adventurously start on your own and experiment with the paints. For a head start, buy an acrylic paint instruction book, or participate in a beginning acrylic class.
Paints
To begin your painting adventure, purchase small plastic bottles of acrylic paint. These liquid acrylics are inexpensive, and are available in craft departments of discount department stores. For your beginning color palate, start with the primary colors -- red, blue and yellow. Add white, brown and a few shades of green to create more combinations. Have a spray bottle handy to keep your quick drying acrylic paints pliable for painting. You can paint watercolor type washes by adding more water, or detailed, opaque objects by adding less water and white paint. Add acrylic retarder to your paints, which increase your mixing and painting time.
Brushes and Palates
Bristle brushes are inexpensive, come in many sizes and work well with acrylic paints. Plastic palates come in all shapes and sizes -- with or without covers -- and are easy to clean. The covered palates preserve your leftover paints for another day. Plastic coated paper plates work well for mixing large amounts of color. Keeping your covered palate in the refrigerator will keep the paints moist. Clean your brushes thoroughly at the end of your painting session, as dried acrylic paint can ruin your brushes. Keep paper towel handy to wipe your brushes and keep your palate mixing part clean.
Surfaces
Acrylic paints work on many surfaces including canvas, canvas board, masonite and watercolor paper. All of these choices are available at craft stores, discount stores and home improvement establishments. Beginners need to have a jar of gesso close by, a thick, whitener solution, which acts as a primer for all painting surfaces. Gesso is quick-drying and adequately covers any mistakes you make on your painting.
Painting
Before beginning your first painting, experiment by mixing different colors to familiarize yourself with combinations. Set up a still life in your art space by placing ordinary objects on a table -- including dishes, wine bottles, fruits, candlesticks and draped fabric. Draw your still life with either pencil or a charcoal stick. Have an eraser handy to make necessary changes. Use dark, medium and light colors for shadows and form. Be patient, as it takes time to become a proficient artist. Try copying favorite artists' styles.
References
Writer Bio
Carol Stanley has been a writer and speaker for over 30 years. She has written for several Arizona publications including the "Arizona Republic." She attended the University of California-Los Angeles and the University of Arizona. She authored the book "For Kids 59.99 & Over," among other publications.
Photo Credits
Hemera Technologies/PhotoObjects.net/Getty Images
Hemera Technologies/PhotoObjects.net/Getty Images
More Articles