Glazing & Painting Techniques With Plastic Bags
Painting techniques require knowledge, skill and the right tools. The nice thing about many painting techniques is that often, the things you need to complete them are already in your house. Plastic grocery bags and garbage bags are a perfect example.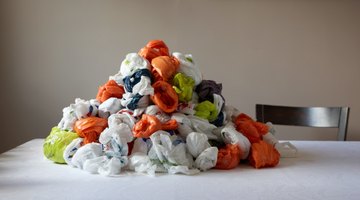 Who doesn't have a collection of plastic grocery bags sitting in a cabinet? Put them to good use with a painting project.
Bagging
Bagging creates a vibrant texture on a wall. It can be done two different ways: bagging on and bagging off. Prepare a glaze of four parts glazing liquid to two parts paint. Bagging on involves dipping a medium-sized, crumpled plastic grocery bag in the glaze and gently placing it, repeatedly, on a surface already painted with a fully dry base coat. Bagging off is just the opposite. Use a crumpled plastic bag to remove some of the glaze that has been rolled onto the surface. Bagging on produces a more defined texture while bagging off is softer.
Frottage
Frottage is an elegant paint finish achieved by rubbing plastic bags on a glaze-covered wall. Plastic garbage bags need to be used if frottage is being done on a large wall because plastic grocery bags are too small. Apply paint mixed with glazing liquid to a dry base coat. Cut open a garbage bag, flatten it out and place it flat on the wall. Gently manipulate the bag with a wallpaper smoother. Remove the bag and enjoy the interesting texture that is left behind.
Marbling
Faux marbling has many layers of paint, and thus many steps. Use a plastic bag in the aforementioned bagging off technique over a dry base coat. The colors of the base coat and glaze depend on the type of faux marble you are trying to imitate. Use a badger brush to soften the effect by brushing back and forth to blur the hard lines left behind by the bag. This creates the appearance of the depth of marble. Paint more defined veins on top with a feather dipped in paint with glaze.
Faux Leather
Frottage is one component of the faux leather technique; on top of a dried tan base coat, create a frottage effect using a darker tan color with glazing liquid. This will give the crinkled effect of leather. Let dry, then use a paint roller to apply a darker brown paint mixed with glaze on top to achieve a rich, brown leather appearance.