How to Build a Mickey Mouse Clubhouse
"Mickey Mouse Clubhouse" is a children's television program that airs on the Disney Channel. The show is meant for preschool age children, and each episode involves viewers interacting with the characters as they try to solve a problem.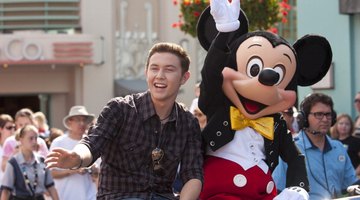 Things You Will Need
Cardboard box
Scissors
Tape
Paint
Paint brush
Extra cardboard
If your little one is a fan of the show, you can build him his own Mickey Mouse Clubhouse. Using an old cardboard box and some paint, you can make a playhouse that looks like the one Mickey and the gang play in on the TV show.
Cut the top flaps off an oversized appliance box, like a refrigerator box. Flip the box upside down so the empty side is the floor. Tape the flaps that are now on the top securely down, making a roof.

Cut a rectangle from the bottom center of one side of the box to make a door where kids can enter and exit the clubhouse.

Paint the box red and let dry. On the front side of the box, paint two blue circles, side by side, to look like the windows on Mickey's clubhouse. Let dry.

Cut out a three-circle Mickey-shaped piece from a square of cardboard. Paint the Mickey head black and let dry. Tape the Mickey head to the top of the clubhouse, so it sticks upright.

Cut a shoe shape from a piece of cardboard and paint it yellow. Let dry. Tape the shoe to the right side of the clubhouse. Cut out a glove shape from a piece of cardboard and paint white. Let dry. Tape the glove to the left side of the clubhouse.

Tip

Let kids help decorate the clubhouse. FIll a box with random items, like a paper towel roll and plastic PVC pipe. Write "Mouskatools" on the box and place in the clubhouse, for kids to use in their adventures.
References
Resources
Photo Credits
Handout/Getty Images Entertainment/Getty Images
Handout/Getty Images Entertainment/Getty Images
More Articles