How to Make a Samurai Mask
The Samurai refer to an ancient Japanese class of soldiers that primarily protected the Japanese nobility. The members of the Samurai famously wore masks with often bold or frightening designs to conceal the fear that may have been expressed on their faces during battle.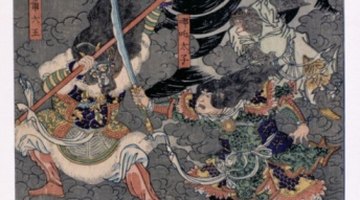 Things You Will Need
Cardstock
Glue
Scissors
Acrylic Paint
Paper Plate
Paintbrushes
Decorative items: beads, buttons, glitter, etc.
Hole punch
String or elastic
Sometimes the masks had horns sticking out of it; sometimes red paint covered the masks. If you or children you know are studying the Samurai, having kids prepare their own homemade Samurai masks is an effective way to reinforce the lessons they've learning about this interesting class of soldiers.
Visit websites that have Samurai mask templates. For example, a website like okadadesign.com has such a template; just click on "Workshop" and then click on "Free Templates." Alternatively, visit wackykids.org and then "Make Stuff" for a different Samurai mask template.

Print out your chosen template and turn it over. Apply a thin coat of glue from your glue stick to the back of the template. Press it down to a piece of cardstock. Smooth out any wrinkles.

Cut out the outline of the mask, now glued onto the cardstock. Squeeze out bold colors onto your paper plate, such as reds, oranges, yellows, greens and golds. Paint the mask, adding decorative embellishments if you so choose, such as glitter, beads or buttons. Stick the decorative embellishments directly in the paint so they dry into the paint securely.

Punch a hole on either side of the mask and attach a piece of string or elastic to each hole to attach the mask to your face.
References
Writer Bio
Lane Cummings is originally from New York City. She attended the High School of Performing Arts in dance before receiving her Bachelor of Arts in literature and her Master of Arts in Russian literature at the University of Chicago. She has lived in St. Petersburg, Russia, where she lectured and studied Russian. She began writing professionally in 2004 for the "St. Petersburg Times."
Photo Credits
Photos.com/Photos.com/Getty Images
Photos.com/Photos.com/Getty Images
More Articles