Chandeliers Without Wiring
Dangling gracefully, chandeliers add a dazzling brilliance, an old-world charm or a contemporary flair to any indoor or outdoor space. Available in assorted colors, metals, crystals, shells and wood, chandeliers provide a decorative focal point of glowing illumination.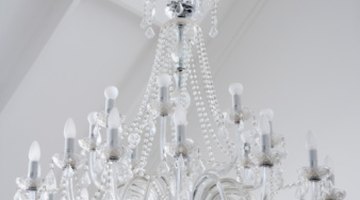 Commonly wired to electricity, traditional chandeliers have been revamped to accommodate areas without electrical access. Energy supplied from the sun, candles and batteries provide alternative, wireless power sources for chandeliers.
Candle
Hang a candle chandelier anywhere, indoors or outdoors, without electrical wiring. Illuminate your dining room, living area, patio or deck with the warm, flickering light from a softly burning candle chandelier to create a cozy, inviting ambiance. Commonly created from metal or glass, the design of a candle chandelier dictates the type of candle used -- tealights, tapers or votives. Affordable candle chandeliers offer a dramatic lighting choice.
Solar
Environmentally friendly, solar-powered chandeliers reduce energy consumption and save electric costs. Many solar chandeliers are designed to withstand the harsh outdoor elements and are ideal for covered patios, gazebos or porches. Composed of photovoltaic cells designed to gather the sun's energy during the day, converting stored energy into light at night, solar chandeliers need direct sun exposure to properly operate. Solar chandeliers are also well suited for use inside the home when positioned in a room penetrated by direct sunlight.
Battery
Wireless, battery-powered chandeliers provide an ideal option for use in areas without electrical access. Remote mountain or lake cabins, partially improved camping facilities and residential backyard areas present well-suited locations for hanging a batter-operated chandelier. Automatic sensors and programmable timers are energy-saving features, prolonging battery life and reducing battery replacement costs. Battery-powered chandeliers are generally weather-resistant, budget-friendly and available in assorted colors and styles.
Tips
Wireless chandeliers enable hanging a sophisticated, dramatic light fixture just about anywhere, indoors or outdoors. Before using a chandelier outdoors, read the accompanying recommendations to ensure that the fixture is weather-resistant. Never leave a candle chandelier unattended while lit. A chandelier's weight will determine the weight-recommended size of hanging fixture to use. The bottom of a chandelier should hang about 30 inches from the tabletop and the diameter of the chandelier should be at least 12 inches less than the table width.
References
Writer Bio
Mary Cockrill's education and certifications in interior design and home staging have allowed her to author numerous home-related articles. Cockrill has been a top design consultant for a renowned home store and is the owner of Starwood Home & Gifts, LLC, an interior design, decorating and home staging business. She holds a Bachelor of Science in secondary education with a comprehensive major in office administration.
Photo Credits
Jupiterimages/Goodshoot/Getty Images
Jupiterimages/Goodshoot/Getty Images
More Articles