Lavender Essential Oil & Wood Floors
Table of Contents
Lavender is a sweet swelling herb with light purple flowers. It can be easily found as an essential oil that can be used for a variety of applications. It is believed to have aroma-therapeutic properties, such as instilling a sense of calm and focus. On top of these benefits, it also deters many pests including fleas.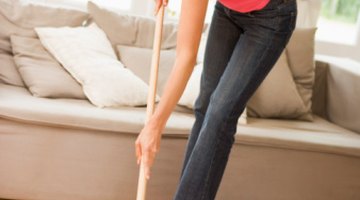 For wood floors, lavender essential oil can be added to cleaning solutions as a safe and pleasant-smelling alternative to harsh chemical cleaners. Lavender essential oils makes an excellent tool for create a green and non-toxic home environment.
Procedure
It is not recommended that you use lavender alone on your floors because, like with any oil, buildup can cause a film on your floors over time. Fill a mop bucket with hot water, 1 cup white vinegar, 1/4 cup olive oil, 1/4 cup lemon juice and several drops of lavender essential oil. Use a wooden spoon to blend the solution. Dip your mop into the solution to saturate fully, then wring out excess moisture. After sweeping the surface to be cleaned, mop with the lavender mixture. Allow to air dry fully before walking on the floors.
Wood Polish
Lavender mixtures also make an excellent polish for wood furniture. If you see areas on your wood floor that are scratched and worn, use this mixture to moisturize these damaged areas. Simply combine 3 parts olive or safflower oil with 1 part white vinegar in a spray bottle. Sprinkle in one to two drops of lavender essential oil and shake to combine. Spray the affected area and let set for several moments before rubbing with a cloth. You could also add a drop of lavender to 1 tbsp. of unrefined coconut oil for more badly damaged marks.
Pest Deterrent
The scent of lavender is a deterrent to some pests, making the plant a welcome addition to most gardens and the oils a positive addition to your home. Especially in warm weather when fleas are rampant, using this lavender oil mixture on your flooring can help keep fleas at bay. If you have pets, this is a safe option for fighting pest problems. However, do not let children or pets handle or consume the cleaning solution.
Air Freshener
Along with its aroma-therapeutic properties, lavender makes an excellent natural air freshener in wood floor cleaning solutions.
Warnings
You should always test the purity of the oils before using. Pour a few drops of the oils on rice paper and let dry. If the oils leave a residue, they are not pure. When handling, keep the oils away from your skin before you know how it will affect you. Some people have sensitivities to oils, though they are generally safe for walking on with bare feet. Always keep the oils out of your eyes.
References
Writer Bio
Liza Hollis has been writing for print and online publications since 2003. Her work has appeared on various digital properties, including USAToday.com. Hollis earned a degree in English Literature from the University of Florida.
Photo Credits
BananaStock/BananaStock/Getty Images
BananaStock/BananaStock/Getty Images
More Articles