How to Kill Bugs With Eugenia Tree Oil
Dozens of beneficial trees and shrubs comprise the Eugenia genus. Among these are several species of clove, a plant noted for its intensely aromatic fruits. Oils extracted from Eugenia trees' leaves, fruits and flowers may possess insecticidal properties, so they are sometimes recommended as a natural, sustainable alternative to harsh synthetic pesticides. If you have a medical condition such as asthma or liver disease, consult a physician before using any insecticide.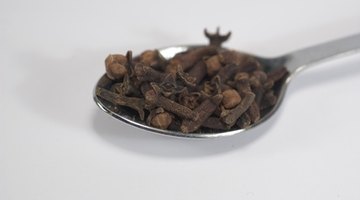 Mix one quarter teaspoon of clove or Eugenia tree oil with one half cup of water. Massage this mixture into your scalp to fight head lice. According to a 2003 study published in the "Journal of Agricultural and Food Chemistry," compounds in the cloves and leaves of Eugenia caryophyllata can destroy males, females and eggs of the species responsible for head lice.

Dilute two tablespoons of clove or Eugenia tree oil in four cups of water. Shake the mixture in a spray bottle.

Spray household pests directly with the Eugenia tree oil mixture if you see them. If an area in your home, such as a pantry or cabinet, is infested, you can spray the mixture generously to kill pests, their eggs and their larvae.

Mix one tablespoon of clove or Eugenia oil with one quarter cup of olive oil. Using a clean paintbrush, apply the oil blend in front of your doors, vents, windows or other areas that attract pests. Eugenol, the primary active ingredient, may repel insects and arachnids that attempt to enter your home.
References
Tips
Most forms of household insects are more active at night. You may be able to find and eradicate their nests by exploring your house after dark.
Warnings
Store Eugenia tree oil out of reach of children. According to the National Institutes of Health, clove oil is extremely toxic when taken by mouth and may cause death in children who ingest it by mistake.
Dispose of Eugenia tree oil responsibly. The Pesticide Action Network North America, or PANNA, warns that the plant's active compound can be harmful to waterways and wildlife.
Talk to your doctor before using essential oils for any purpose if you have asthma. The NIH warns that fragrant oils can worsen this condition.
Writer Bio
Juniper Russo, an eclectic autodidact, has been writing professionally since 2008. Her work has appeared in several online and print-based publications, including Animal Wellness. Russo regularly publishes health-related content and advocates an evidence-based, naturopathic approach to health care.
Photo Credits
More Articles