How to Remove Parts of Eaves
The eaves are the part of your roof's soffit that overhang the rest of the roof. Ice, heavy water, high winds, nesting animals and other wear and tear can cause damage to certain parts of your eaves. To repair any damage, you need to remove just the broken parts of the eaves so that they can be replaced with new parts.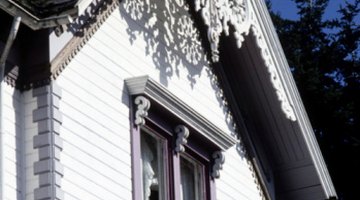 Things You Will Need
Pry bar
Reciprocating saw
The removal process is one of the least complicated aspects of this repair job.
Use a pry bar to live the shingle mold portion of the eaves.

Pull off the fascia underneath the shingle mold. With the shingle mold no longer in place, this section should pull out easily.

Grip the section of soffit you want to remove and pull downward sharply. Debris, including old animal nests, may fall from above it.

Cut out the remaining part of the eaves you wish to remove -- the rafter -- using a reciprocating saw. If the rafter is rotted, be sure to remove the entire damaged portion.
References
Writer Bio
Mike Johnson has been working as a writer since 2005, specializing in fitness, health, sports, recreational activities and relationship advice. He has also had short stories published in literary journals such as "First Class Magazine." Johnson holds a Bachelor of Science in education and history from Youngstown State University.
Photo Credits
Ablestock.com/AbleStock.com/Getty Images
Ablestock.com/AbleStock.com/Getty Images
More Articles