How to Get a Burn Mark Off of Linoleum
Linoleum flooring is an affordable way to upgrade your kitchen or bathroom. It comes in sheets or individual tiles, is easily installed, and available in many looks and textures, making it a good project for the do-it-yourselfer.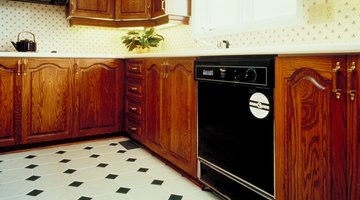 Things You Will Need
000-grade steel wool
Floor sealer
Utility knife
Double-sided tape
Pencil
Carpenter's square
Clean cloth and water
Linoleum adhesive
Waxed paper
Rolling pin
Weight
However, if your floor receives a burn mark, your choices on how to get rid of the mark are limited. If the burn is not deep, use steel wool and sand the mark away. Most of the time, you will need to patch the floor, using scraps of tile left over from the initial install.
Shallow Burn Repair
Use 000-grade steel wool and a light touch to remove shallow burns. Sand only the surface of the linoleum.

Clean off all residue and sawdust with a clean, damp cloth.

Finish by applying a floor sealer to the affected area. Let the linoleum dry completely.
Deep Burn Repair
Cut a diamond-shaped repair piece and place it over the damaged area. Be sure to match the direction and pattern of the existing tiles. Secure the repair piece over the damaged area with double-sided tape.

Place a carpenter's square along one side of the repair piece and hold it in place. Score the edges not butted up against the square. Remove the repair piece and score the last side along the square. This method makes for a tight fit for the repair piece.

Cut the score lines completely through the damaged flooring. Cut down the middle of the damaged area and peel away the damaged tile, paying close attention at the edges.

Clean the old adhesive and residue away from the subfloor, using a wet cloth. Apply adhesive to the back of the repair piece and bend it into the opening.

Roll the repair piece with either a roller or a rolling pin to ensure proper adhesion with the floor. Clean any residue from the top of the repair piece, cover with waxed paper and weigh it down for 24 hours. Apply a floor sealer to the new area.
Writer Bio
Becky Lower began writing professionally in 2004. Her work has appeared in "elan" magazine, a northern Virginia publication, "Good Old Days" magazine, the "BGSU Alumni" magazine and on the website thenovelette.com. Lower has a Bachelor of Arts in journalism and English from Bowling Green State University.
Photo Credits
Jupiterimages/Photos.com/Getty Images
Jupiterimages/Photos.com/Getty Images
More Articles