How to Fix Your Carpet With Crazy Glue
Small pulls, burns, stains and other damage can cause small areas of a carpet to become damaged. Instead of replacing the entire carpet, consider patching the carpet or repairing the damaged area. Do this by using a superglue to adhere a new piece of carpet in place. The biggest challenge when patching a carpet is finding carpet that matches the damaged area. Contact a carpet company who is willing to bring samples to your home. Analyzing samples in a home's lighting can help homeowners choose the best carpet for the job.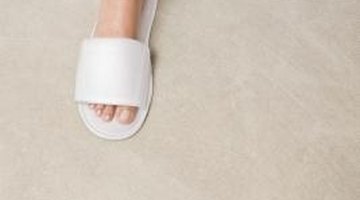 Draw a chalk rectangle around the damaged area of the carpet using a T-square. Preserve as much carpet as possible by keeping the area to be replaced as small as possible.

Use a utility knife to cut around the chalk line. Carefully part the fibers and cut only the carpet backing when possible.

Grab on to the middle of the carpet square and pull it straight out. In some cases, the carpet won't pull out directly. Place the utility knife under the cut seam to pry out a stubborn piece.

Unroll the carpet sample or carpet left over from the original install. Place the cut-out square on top of the carpet sample. Use the utility knife to cut out a square the same size as the damaged piece.

Turn the carpet square so the fiber direction matches the "grain," or nap, of the carpet in place. Place the carpet into the hole to ensure the patch matches the existing carpet.

Remove the square from the remaining carpet and turn it over. Place and old T-shirt over the carpet square. Carefully cut the T-shirt to match the size of the patched square of carpet.

Turn the carpet square over and apply a thin layer of crazy glue around the perimeter of the carpet square. Cover the backing with the old T-shirt. This will allow the carpet to sit in place, without being glued in place and damaging the floor underneath.

Reposition the patch square inside its hole. Carefully part the carpet fibers and apply a drop of glue to the carpet's backing to secure it in place. Avoid getting the glue on the carpet fibers.
References
Tips
Purchase the smallest amount of carpet available from the supply store or ask if they have sample squares available for purchase.
Warnings
Even after a patch repair, there may be a small visible seam. Unfortunately, this is unavoidable, though it will become less noticeable over time.
Photo Credits
Jupiterimages/Comstock/Getty Images
More Articles