How to Recover a Counter Stool With a Back
Bar stools, also sometimes called counter stools, are prone to becoming dirty and stained, because that's where people often sit to eat or drink, especially if you are entertaining in your home. Accidentally dropping one greasy appetizer or spilling a little red wine can create a permanent mark that disfigures the entire stool. However, recovering your high-backed counter stools is not a difficult project, and can make your seats look almost new again.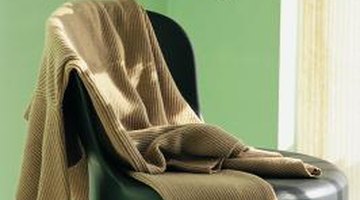 Step 1
Turn the counter stool over so the underside is accessible. Unscrew the screws or bolts holding the seat to the frame. Set the frame aside.
Step 2
Pull the staples out of the bottom of the stool seat to release the upholstery. Remove the fabric carefully.
Step 3
Snip through the seams holding together the old fabric cover and disassemble it. Use the pieces as a template to cut out the pieces for the new cover from the new upholstery fabric. Pin the old pieces to the wrong side of the fabric -- that is, the side that will not show -- and cut around them with pinking shears.
Step 4
Pin the pieces of the new cover together with the right sides of the fabric facing inward -- that is, the sides of the fabric that you want to show. Sew the new cover so that it is inside-out. Turn the cover right-side-out and pull it over the counter stool seat to test the fit.
Step 5
Remove the new cover once you are sure it fits properly. Replace the batting padding on the counter stool seat if it is worn out. Pull out the staples holding the old batting in place. Cut the new batting to size, and staple it in place the same way the previous batting was attached.
Step 6
Pull the new counter stool cover down over the seat. Turn the seat upside-down. Pull one side of the fabric firmly toward the center of the seat bottom, and staple it in place. Do the same to the opposite side.
Step 7
Work around the edge of the fabric, pleat folding the excess and stapling it to the underside of the seat. Once the fabric has been fully attached, affix the stool frame to the seat.
Writer Bio
Jourdan Townsend has been writing since childhood. Her articles appear in a collection of student works at the University of Oklahoma as well as in the school's "Honors College Journal." Townsend also composes poetry, some of which can be found in an edition of the "Anthology of Poetry by Young Americans." Townsend holds a Bachelor of Arts in communication.
Photo Credits
Digital Vision./Digital Vision/Getty Images
More Articles