How to Install a Sure Fit Slipcover for a Recliner
A slipcover is an excellent way to spruce up older furniture or to create a new look in a room. The covers are machine washable and come in a variety of colors and fabrics. Sure Fit is an American company that manufactures slipcovers for love seats, couches, armchairs, recliners and outdoor furniture. Slip covering your favorite recliner instantly brings new life to an old piece of furniture by covering any stains or worn patches.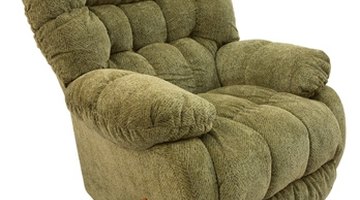 Place the slipcover across the back of the chair and line up the shoulders of the slipcover with the shoulders on the chair. Tags inside the slipcover will help you with this.

Pull the back of the cover down, and slide the elastic corners over the bottom back corners of the chair.

Recline the back of the chair, and raise the footrest.

Slide the arm parts of the cover over the armrests.

Wrap the fabric under the bottom of the arms, making sure the darts, or pleats, are lined up with the corners at the bottom of the chair.

Press the fabric into the seat of the chair, tucking any loose fabric into the sides and back.

Slide the front of the cover over the footrest and tuck in. Attach the elastic loops to the underside of the footrest so the slipcover doesn't slide around.

Turn the chair upside down. You may need another person to help you with this step. Tie the elastic loops to any metal parts on the bottom of the chair to ensure the slipcover stays in place. Tuck in any extra loose material.
Tips
The slipcover has tags on the inside to help you position it over the different parts of the chair.
Writer Bio
Cynthia Vukets is a Canadian journalist who has been writing since 2004. Having worked in print and television in Canada, Rwanda and Kenya, her writing has appeared in publications such as "The Daily Nation," "The Times & Transcript" and "The New Times." Vukets has a Bachelor of Arts in journalism from Carleton University.
Photo Credits
rocker recliner chair image by James Phelps from Fotolia.com
More Articles