How to Upholster a Windsor Chair
Windsor chairs are classic, sophisticated and durable. Windsor chairs generally feature a rounded wooden back featuring several vertical thin wooden spindles. The simple wooden seats are held up by four chair legs, angled out for balance. Often found in country and cottage home decor, these chairs are typically used around a dining room table or as desk chairs. Windsor chairs are most often made of wood, but reproduction pieces might be made of metal. To make them more comfortable and stylish, try upholstering cushions in your desired fabric. Traditional Windsor chairs do not feature cushions. In this case, you will need to make a cushion before upholstering your chair.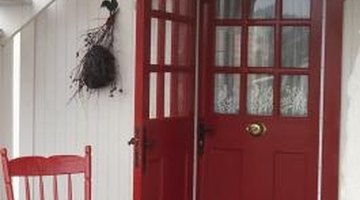 Create cushions for the chair. If your style of Windsor chair already has cushions, remove the existing fabric for reupholstery. To make a new cushion, trace the shape of your chair seat on a piece of butcher paper or muslin cloth. Use this as a pattern by positioning it over a piece of 2-inch upholstery foam. Wrap the foam in cotton batting for extra comfort.

Create pattern pieces for each portion of the chair. Fold upholstery fabric in half so it is doubled over, print-side in. Pin your fabric sides together with straight pins. Position your cushion in place over the doubled-over upholstery fabric. Trace around the cushion directly onto the fabric with a pen or pencil. Add 2 inches on all sides for seam allowance. Cut out your pattern from both sides of the fabric.

Keep the fabric print-side in so that the underside of the fabric is what's exposed. Sew along the sides of the traced lines, leaving one side open to slide a cushion in place. Cut off excess material. Turn the fabric right-side out and slide your cushion inside the fabric. Sew the last side closed. If you had a preexisting cushion with a wooden backing, instead of sewing you can cover the cushion in fabric and staple to the underside of the backing.

Attach the cushion to the chair frame. There are several ways to do this. If the cushion has wooden backing, mount it in place to the chair seat with screws. For cushions without wooden backing, tie the cushion in place to the back of the chair with fabric ties. To create these strips, cut four pieces of fabric that are 8 to 10 inches long by 2 inches wide. Fold the strips lengthwise, print side in, and sew closed along the longest edge. Use a pencil to turn the fabric strips right-side out and fold the edges over to sew closed. Sew two strips to each back corner of the chair cushion to tie around a chair back spindle.
References
Writer Bio
Liza Hollis has been writing for print and online publications since 2003. Her work has appeared on various digital properties, including USAToday.com. Hollis earned a degree in English Literature from the University of Florida.
Photo Credits
Hemera Technologies/Photos.com/Getty Images
More Articles