How to Reupholster a Rolled Arm Bench
Sometimes called a Queen Anne bench, a rolled-arm bench is a beautiful piece of furniture that features wooden legs, winged armrests and no back. Over time, the upholstery on the bench can begin to show wear, making the once-pristine piece of furniture look a bit messy. Reupholstering a rolled-arm bench can breathe new life into a classic, vintage piece of furniture. Since the choices of fabric are practically endless, you can give a modern twist to the bench with animal prints or create a whimsical addition to your living room with polka-dot fabric.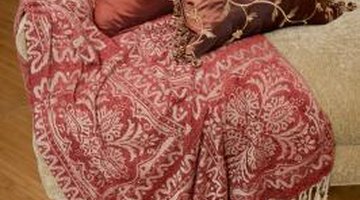 Step 1
Turn the rolled-arm bench upside down. Locate the staples that attach the old fabric to the bench frame, then remove them with a staple remover or needle-nose pliers.
Step 2
Continue removing the staples until none are left. Some rolled-arm benches have a seat cushion that you must remove by unscrewing the screws located at the bottom of the bench. Lay all parts of the disassembled bench out in front of you.
Step 3
Pull the old fabric carefully from the bench frame. If each fabric section comes off in one piece, you can use it as a pattern for the new fabric.
Step 4
Lay the new fabric out flat with the printed side facing up. Trace the rolled arm bench pattern directly on the new fabric with a pencil. Use a pair of sharp fabric shears to cut out the fabric according to the pattern you've created.
Step 5
Lay the cut piece of fabric for the arm of the bench over the arm. Smooth the fabric with your hand to remove wrinkles. Pull the smoothed fabric taut under the bench and tuck it in between the rolled arm and bench seat. Secure the fabric to the underside of the bench with a staple gun.
Step 6
Continue adding the cut fabric to the corresponding piece in the same manner as the previous step. Use a staple gun to carefully attach the fabric to the underside of the bench.
Step 7
Reattach the bench with the necessary screws. Affix cords or piping to the bench, if needed to hide exposed edges.
Tips
Consider taking pictures of the disassembling process, so you can refer back to them when reassembling the bench.
Writer Bio
Amanda Flanigan began writing professionally in 2007. Flanigan has written for various publications, including WV Living and American Craft Council, and has published several eBooks on craft and garden-related subjects. Flanigan completed two writing courses at Pierpont Community and Technical College.
Photo Credits
Jupiterimages/Photos.com/Getty Images
More Articles