Reupholstering This End Up Classic Chairs
The Classic Collection by furniture manufacturer This End Up features furniture designs that combine wood with plush, upholstered cushions. While the chairs are beautiful as is, the chair cushions are only available in solid colored, upholstered fabrics. You can give your classic This End Up chair a new look by swapping out the plain upholstery for a bold pattern or textured fabric. Reupholstering cushions is a simple DIY project for anyone with basic sewing skills.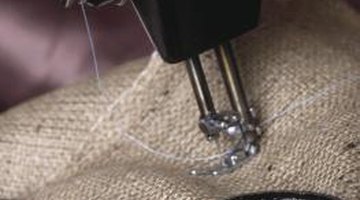 Step 1
Remove the bottom cushion from your classic chair. If possible, unzip the zippered closure and remove the upholstery foam from the inside of the chair cushion. If no zipper is present, use a seam ripping tool to remove the seams along the back of the cushion.
Step 2
Insert the seam ripping tool gently under the stitches along the right edge of the cushion. Pull the tool back towards you to remove the seam. Repeat around all sides cushion. As you remove a piece of upholstery from the cushion, turn the piece over and use a marker to label it with its orientation in the chair cushion. Mark seams by drawing dashed lines on the cushion.
Step 3
Unroll the upholstery fabric face down on the work surface. Place one of the pieces removed from the cushion onto the new fabric. Trace around the edges of fabric using a piece of chalk. Mark the seamed edges with dashed lines. Repeat with the remaining pieces.
Step 4
Carefully cut out the pieces you marked. Pin the right and left pieces to the top along the previously drawn, dashed lines. Thread the sewing machine with upholstery-grade or strong nylon thread. Use a thread that coordinates to the colors in the upholstery fabric. Set the sewing machine to a straight stitch and sew along the pinned edges, removing the pins as you go. Repeat, this time pinning the front and back edges to the top of the cushion, then sewing along the pinned edges.
Step 5
Turn the cushion over and pin the bottom in place. Only pin along three sides of the cushion. Sew along the pinned edges.
Step 6
Turn the fabric right side out through the open edge. Insert the upholstery foam into the cushion. Thread a curved upholstery needle with your thread. Fold the open ends inside the cushion. Sew the open seam shut using small, straight stitches.
Step 7
Repeat the same process to reupholster the upper cushion of your chair.
Tips
Most cushions are sewn using a box cushion design. The cushion will contain a top piece, bottom piece, right side edge, left side edge and a front side edge. Sew the fabric in place with the back of the fabric facing out.
Photo Credits
Hemera Technologies/Photos.com/Getty Images
More Articles