How Can I Get Burn Marks Off of Cultured Marble Countertops?
Accidents can happen and burns can ruin the surface of a cultured marble countertop. Cultured marble is a man-made product that resembles real marble. Whether the countertop is in the kitchen or bathroom, you need to take special care when removing the burn, or you risk ruining your countertop.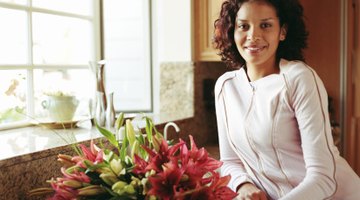 While you probably won't be able to completely remove burn marks, you can make them less noticeable. As you work to sand away the burn marks, always keep the surface wet.
Things You Will Need
Non-abrasive cleanser
1,000- to 2,000-grit wet-dry sandpaper
Sponge
600-grit sandpaper or finer
Polishing compound made for cultured marble countertops
Wax
Cloth
Clean the countertop with a non-abrasive cleanser. Before beginning any repair work, remove dirt, soap scum or other debris clinging to the top of the cultured marble's surface.

Wet a piece of 1,000- to 2,000-grit wet dry sandpaper. Sand the burn marks of your cultured marble gently. Do not sand too deep or you risk ruining the countertop further.

Wash the sandpaper debris away with a damp sponge.

Sand the area again with 600-grit sandpaper or finer. Using sandpaper coarser than 600-grit could leave your cultured marble countertop full of scratches.

Wipe the area with polishing compound made for cultured marble countertops.

Apply wax over the area according to manufacturer's directions and buff the area with a clean cloth.
References
"Joey Green's Fix-It Magic"; Joey Green; 2008
Writer Bio
Gail Delaney is a writer in South Dakota and has articles published online at various websites. She is the garden editor for BellaOnline, with years of gardening experience. Being the caretaker of her parents led her in the direction of medical issues, especially natural remedies.
Photo Credits
Siri Stafford/Digital Vision/Getty Images
Siri Stafford/Digital Vision/Getty Images
More Articles