How to Remove a Burn Mark From a Fireplace
Working fireplaces are beautiful and can add instant ambience to a room. However, the hypnotic dance of the flames can sometimes come with a price. Stray embers and shooting sparks can scorch your fire's enclosure, leaving unsightly burn marks.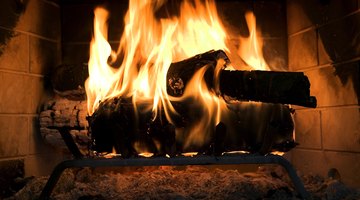 If you have a stone or brick fireplace, use Coca-Cola as a non-toxic way to remove the damage. If Coca-Cola doesn't work, trisodium phosphate should do the trick.
Things You Will Need
Coca-Cola
Bowl
Scrub brush
Gloves
Face mask
Trisodium phosphate
Tip
If the burned area is made of wood, the easiest way to remove the burn is to sand the area with successively finer grits of sandpaper.
Warning
Trisodium phosphate is very caustic. Wipe up any spills immediately. Rinse skin with vinegar or lemon juice if any is spilled on exposed skin.
Coca-Cola Method
Pour cola into the bowl and dip the scrub brush into the soda.

Scrub the burns with wet scrub brush, applying additional Coca-Cola as needed.

Rinse scrub brush and scrubbed area with clean water. Scrub the area again using plain water. Blot dry.
Trisodium Phosphate Method
Put on gloves and face mask. If you are accident prone, long sleeves, pants and closed-toe shoes are advised.

Combine 1 tbsp. of trisodium phosphate with 1 gallon of water.

Dip the scrub brush into the trisodium phosphate solution and apply to the burn mark.

Scrub the burn mark gently, wetting the area with additional solution as necessary.

Rinse area thoroughly and repeatedly with plain water. Blot dry.
References
Natural Cleaning For Your Home; Casey Kellar; 1998
Writer Bio
Camille Guy has been a copy editor since 1997. She has edited instructional materials for content providers such as Bisk Education Inc. Guy has also edited books for major publishers such as Ashgate Publishing and Packt Publishing. She has studied comparative literature at State University of New York, Empire State.
Photo Credits
Thinkstock/Comstock/Getty Images
Thinkstock/Comstock/Getty Images
More Articles