Average Garage Sizes
Table of Contents
Standard garage sizes will typically look proportionate to most homes. The only way to get a clear picture of how your garage will look is to draw the house and garage on graph paper. A single-car garage can appear small next to a two-story home. Or a double-car garage may look too large on the front of any house.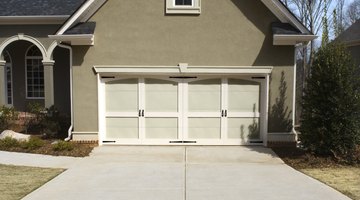 By designing a balanced appearance on paper, you will be pleased with the outcome.
Basic Dimensions
A two-car garage works well if it measures 24-feet square. The minimum size for a two-car garage is 20-feet square. You want extra space, if the lot size will allow, for the extra square footage. You will have more storage and more space to open doors inside the garage. A single-car garage is typically 12 feet wide by 24 feet long. However, plenty of one-car garages measure only 20 feet long.
Three-Car Dimensions
A large home may call for a three-car garage. This space is approximately 30-feet square on average. Unless the property and the home itself are extremely large, it's best to stay close to these dimensions. Otherwise, the garage will overpower the look of the house. If a three-car garage is on the back or side of a home, you have more leeway. The balance between the house and garage matter most from curbside view.
Added Storage Space
Extra room will enhance garage storage space. Adding just 2 or 4 extra feet to the length or width of a garage creates a lot of extra room. You can build a wall of shelving 24 inches deep that takes up garage space from floor to ceiling. Acquiring this kind of room expands the cubic feet of storage space, so you can stack boxes or bins of items. It's possible to build a workbench into the wall storage space, too.
Oversize Door Space
Garage doors must look harmonious with the structure. In fact, you can design a garage that is one-and-a-half times the size of a single-car garage. This calls for a garage door that is wider than a single-car garage door. If the garage door or double doors are large, this area must look harmonious with all components of the house. Otherwise, the garage door will look too prominent from curbside.
Detailed Layout Plans
Create a layout on graph paper. You want to include a workbench, storage space or basic shelving that all look appropriate when the garage door is raised. A cluttered or cramped space will detract from your home's visual appeal. Having everything inside a garage spaced harmoniously gives the garage an inviting look. You will enjoy spending time in a garage with a well-planned layout with space allocated for everything.
References
Resources
Writer Bio
Judi Light Hopson is a national columnist for McClatchy Newspapers. She is founder of Hopson Global Education and Training and co-author of the college textbook, Burnout to Balance: EMS Stress. She holds a degree in psychology from East Tennessee State University, and has been a professional writer for 25 years.
Photo Credits
Thinkstock Images/Comstock/Getty Images
Thinkstock Images/Comstock/Getty Images
More Articles