What Is a 3-Bay Garage?
Modern families frequently own several cars or trucks, especially if there are multiple adults in the household with driving privileges. Many people also have recreational vehicles, ATVs, motorcycles, boats and landscaping equipment such as riding lawnmowers.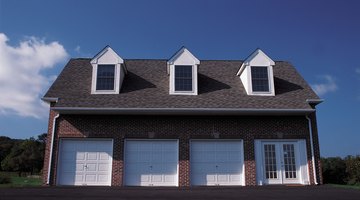 To protect these items from theft and the harsh effects of inclement weather, a residential three-bay garage is a common storage option.
Dimensions
To adequately house three normal-sized cars or trucks, a three-bay garage needs to be a minimum of 32 feet wide and 28 feet deep. If possible, add 4 feet to the width and depth to permit easy access around the vehicles and provide storage areas for sporting equipment, bicycles, push lawnmowers and garden tools and implements.
Types
Three-bay garages are normally freestanding structures, but they can also be attached to homes the way conventional garages are if the land parcel is of adequate width and depth. The garage doors can be separated for individual access to each bay, or you can have one door that covers all bays. Some three-bay garages have windows in the doors and walls and others have none, which prevents potential thieves from viewing the contents and assessing their value.
Advantages
Families with multiple vehicles frequently vie for garage space in typical two-car garages, leaving one or more vehicles destined for street parking. Three-bay garages help alleviate this problem. Washing and waxing cars year-round is possible with a three-bay garage, as are minor repairs and maintenance. You can safely store custom or antique cars rarely driven on public roads in three-bay garages without paying monthly fees to a storage facility. Many automobile insurance companies offer lower rates to policyholders who store their cars off the street in secure buildings.
Options
A number of three-bay garage plans include extras that can be incorporated into the original design or added on later. Common alternatives include workbenches, mudrooms and stall showers for easy cleanup after sporting events or car maintenance procedures. You can build a loft above the garage for storage or office space or construct a full-fledged apartment in the upper space. If you perform most of the heavy-duty maintenance on vehicles, dedicate one bay to vehicle repairs. Repair bays have sunken floors to facilitate under-body repairs and lifts to expose undercarriages for inspection while standing erect rather than requiring you to roll around on a dolly beneath the vehicle.
References
Writer Bio
Cassie Damewood has been a writer and editor since 1985. She writes about food and cooking for various websites, including My Great Recipes, and serves as the copy editor for "Food Loves Beer" magazine. Damewood completed a Bachelor of Arts in English with an emphasis in creative writing at Miami University.
Photo Credits
Comstock/Comstock/Getty Images
Comstock/Comstock/Getty Images
More Articles