How to Operate Dozer Controls
Driving and operating a bulldozer is similar to operating a car. The dozer drives forward, backward and side to side just like a car, and it brakes like a car. The additional features on a dozer, such as the construction blade, are controlled with joysticks.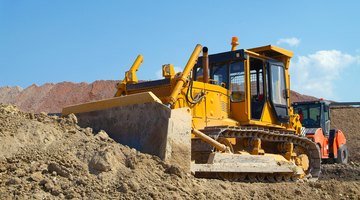 Before operating a dozer, make sure an experienced construction professional walks you through the operation step by step.
Put the key in the ignition of your bulldozer. Release the safety brake on the left side if the dozer has one.

Turn the key to start the dozer. Leave your foot on the brake while starting the dozer. Leave the ignition in the "Run" position.

Ease your foot off the brake. Let your foot hover over the brake while driving so that you are prepared to stop at all times.

Click the main joystick forward to drive forward. Click it backward to reverse. Hold it gently to either side to drive left or right.

Press the joystick on the right forward or backward to move the blade. Tilt the joystick left or right to tilt the blade. Swing the joystick left or right to turn the blade without tilting it. The blade is the piece of equipment at the front of the dozer.

Press down on the decelerator to stop the bulldozer. Press down on the decelerator when going from forward to reverse and when stopping the dozer.

Put the parking brake back in place. Turn the ignition to the "Off" position. Make sure the dozer is completely "Off" before getting out of the driver's seat.

Warning

Never leave the bulldozer unattended while running, even if the parking brake is on.
References
"Bulldozers"; David Glover et al; 2005
Writer Bio
Michael Monet has been writing professionally since 2006. At the San Francisco School of the Arts, he studied under writers Octavio Solis and Michelle Tea, performed his work in Bay Area theaters and was published in literary journals such as "Paradox," "Umlaut" and "Transfer." Monet also studied creative writing at Eugene Lang College in New York and Mills College in Oakland.
More Articles