How to Install Gator Blades
Gator Blades are mulching blades for lawnmowers, manufactured by Oregon Cutting Systems Group of Blount, Inc. Mulching blades differ from standard lawnmower blades and are designed to pulverize grass clippings to the smallest size.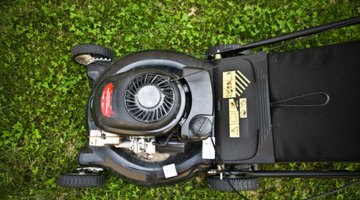 Mulching provides natural fertilizer for the lawn and removes the necessity to rake and bag cut grass after mowing. Although innovative in design, Gator blades install like any other lawnmower blade. However, due to their non-standard appearance, careful attention must be paid to install the blade in the correct orientation. Gator Blades are compatible with most, though not all, walk-behind lawnmowers and riding lawn tractors.
Things You Will Need
Gloves
Clean gasoline container
10-inch scrap of 2x4 wood
Socket wrench and sockets
Warning
Remember that lawn mower blades are designed to cut. They are sharp. Be sure to wear gloves and handle old and new blades carefully.
Removal of original blade
Disconnect the lawnmower's spark plug. Remove the fuel tank cap, tip the mower and pour the fuel out of the tank into a clean container. Lay the mower on it's side, supported by the push handles.

Place the block of 2 x 4 scrap between the blade's edge and the mower to jam the blade and prevent it from turning.

Use the appropriate size socket and drive to loosen and remove the nut and washers securing the blade to the engine's spindle shaft. Remove the old blade.
Installing the Gator Blade
Install the Gator blade on the spindle, taking care to be sure the beveled edge and upturned, serrated "ears" of the blade are pointing up, towards the deck of the mower. The flat, smooth side of the blade should be facing down toward the grass. (Gator blades have the words "Grass Side" imprinted on that side.)

Install washers and start the nut on the threads of the spindle. Tighten the nut clockwise by hand.

Place the 2x4 into position again to jam the blade so it will not turn. Finish tightening the blade with the socket wrench.

Turn the mower upright. Reconnect the spark plug wire and refill the fuel tank. Allow the mower to sit for a few moments before operation to allow oil to drain back down into the crankcase.
References
Writer Bio
Gus Stephens has written about aviation, automotive and home technology for 15 years. His articles have appeared in major print outlets such as "Popular Mechanics" and "Invention & Technology." Along the way, Gus earned a Bachelor of Arts in communications. If it flies, drives or just sits on your desk and blinks, he's probably fixed it.
Photo Credits
Jupiterimages/Photos.com/Getty Images
Jupiterimages/Photos.com/Getty Images
More Articles