Type of Wood to Make Butcher Block Countertops
A butcher block countertop can be made from many types of wood. A wood that is durable, visually appealing and easy to care for stands the tests of time and regular use.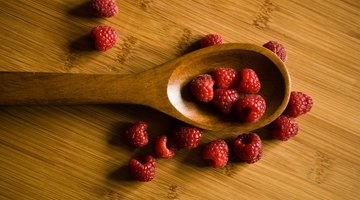 There is no need to stick with one type of wood when making a butcher-block countertop or table -- you can alternate wood types for attractive color-on-color layering.
Oak Inspiration
Red oak's straight, fine lines create a striking appearance. The wood's color ranges from pinks to yellows, adding visual warmth to a kitchen. It's also a perfect match for oak kitchen cabinets already crafted from this classic hardwood. Oak provides durability at moderate cost, which is one reason why it is a desirable wood choice for everything from flooring to furniture.
Maple's Marvels
Maple in its many varieties offers a durable, attractive wood for making butcher-block countertops, especially hard maple -- it is used for everything from baseball bats to basketball courts. Maple is a light-colored wood that looks just as lovely on its own as when paired plank-style with woods with varying hues. For a butcher block design using wide pieces of wood, burled maple adds a surprising visual treat to the countertop surface.
Colorful Cherry
Cherry wood has an inherent pinkish hue that develops into a darker golden tone over time, lending it to use in construction of cabinetry and fine furniture. Paired with a lighter wood such as maple, the contrasting red and yellow tones create a striking butcher block surface. Color variations exist within the cherry itself if you wish to stick with one wood: Heartwood bears red tones, while sapwood is pale yellow. In a functional butcher block surface, the end grain of cherry faces up for the most strength -- this means cherry scraps come in handy for a tile-style butcher block design.
Beneficial Bamboo
Bamboo as a butcher-block material wins points in the sustainability department, since bamboo grows more quickly than many other plants bearing construction-worthy wood. This light-grained material, which is a not actually wood but a woody grass, is strongest with the end-grain surface up, well suited to a butcher-block countertop design with a checkerboard construction.
References
Writer Bio
Kathy Adams is an award-winning journalist and freelance writer who traveled the world handling numerous duties for music artists. She writes travel and budgeting tips and destination guides for USA Today, Travelocity and ForRent, among others. She enjoys exploring foreign locales and hiking off the beaten path stateside, snapping pics of wildlife and nature instead of selfies.
Photo Credits
Jupiterimages/Photos.com/Getty Images
Jupiterimages/Photos.com/Getty Images
More Articles