How to Paint an Entertainment Unit
When refinishing any item with paint – especially an entertainment unit – proper and careful application is essential to a successful project.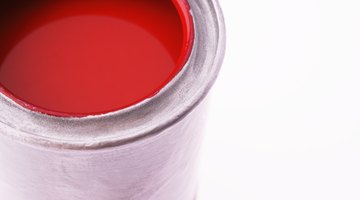 When housing a television, gaming system and other hardware, this type of furniture often becomes the focal point in a room, and one coat of paint with no preparation results in a bubbly, streaky and unsightly finish. Outside of the method used, the products you choose also make a difference; avoid basic latex paint and opt for higher-end water-based enamel products for a durable, hard finish.
Things You Will Need
Screwdriver
Dropcloth
120-grit sandpaper
Electric sander (optional)
Shop vacuum
Tack cloths
Stain-blocking water-based primer
Low-nap paint roller
1 to 2 inch synthetic paintbrush
Water-based enamel paint
220-grit sandpaper
Clear water-based polyurethane or polyacrylic finish
Finish paintbrush
Tip
Opt for a high-end primer to create a solid even base for the paint. When painting a dark entertainment unit a lighter color, you may need to apply two coats of primer and up to three coats of paint for an opaque finish. Apply the finish coat with a high-quality paintbrush to avoid brush marks in the finish. Work carefully with the painted entertainment unit; enamel paint takes 30 days to cure, and rough handling may cause nicks in the final finish.
Warning
Wear a National Institute for Occupational Safety and Health-approved face mask if you are sensitive to paint fumes.
Remove the doors and drawers from the entertainment unit. Unscrew door tracks as well as any knobs or pulls. Pull out shelving and any pegs holding the shelving in place. Set aside the hardware with the corresponding screws in a safe location.

Arrange the dropcloth over a large, hard surface in a well-ventilated area, preferably a garage. Position the entertainment unit, doors, drawers and shelving over the dropcloth.

Sand each surface you want to paint with 120-grit sandpaper, just enough to remove any shiny areas and lightly scuff the existing finish. Vacuum the area – including the tarp – thoroughly with a shop vacuum and wipe down the entertainment unit, doors, drawers and shelving with a tack cloth.

Mix a can of stain-blocking primer thoroughly. If you're painting over laminate or another slick material, use a primer intended for these types of surfaces. Pour the primer into a paint tray.

Dip a low-nap paint roller into the primer and apply the product evenly to the entertainment unit. Use a synthetic paintbrush for edges, grooves or other surfaces that the paint roller can't reach. Let the primer dry and flip over the doors, drawers and shelving. Prime the opposite sides. Allow the primer to dry thoroughly, at least four hours, or as recommended on the label.

Stir a can of water-based enamel paint thoroughly and pour the product into a clean paint tray. Apply a thin coat of paint to the entertainment unit. Let the paint dry, flip pieces over as applicable and paint the opposite side. Let this dry for four to six hours.

Sand the doors, drawers, shelving and entertainment unit very lightly with 220-grit sandpaper. Do not sand through the new paint. A light sanding at this stage smooths out any bumps or ridges, ensuring that your final coat of paint is smooth and even in both color and sheen. Wipe everything down with a tack cloth and vacuum the work area again.

Apply your final coat of enamel paint and allow the unit to dry for 48 hours.

Brush or wipe on a thin coat of clear water-based polyurethane or polyacrylic to the entire unit, front and back after the unit is thoroughly dry. Let this dry for two hours. Sand everything down lightly with 220-grit sandpaper and wipe the dust away with a tack cloth. Apply a second coat. Repeat the sanding process and then apply a final coat. Three coats of polyurethane or polyacrylic provides the best protection for the new paint.

Reinstall the door, drawer knobs and pulls, and secure the drawer tracks to the entertainment unit.
References
Writer Bio
Amanda Bell spent six years working as an interior designer and project coordinator before becoming a professional writer in 2010. She has published thousands of articles for various websites and clients, specializing in home renovation, DIY projects, gardening and travel. Bell studied English composition and literature at the University of Boston and the University of Maryland.
Photo Credits
Visage/Stockbyte/Getty Images
Visage/Stockbyte/Getty Images
More Articles