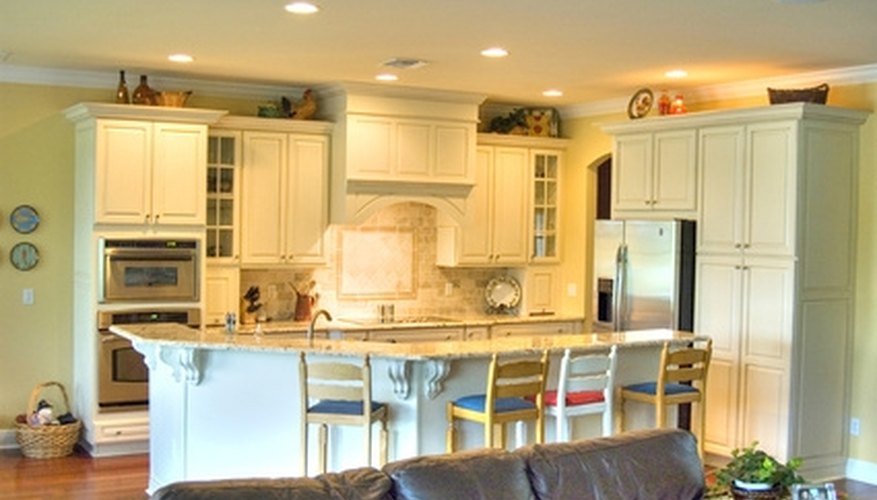 Painting kitchen cabinets, bathroom vanities or built-in china cabinets is an inexpensive way to refresh the rooms. With some work and time, you can do this project yourself and save the expense of a complete remodeling and still have a new fresh look. Be prepared for it to take two weeks or more and plan the project for when there is not too much activity in the room.
Remove everything you can from the cabinets, including doors, handles, hinges and shelves. Set up an area to sand and paint these items. Empty the cabinets. Put screws in a safe place because you need them to put the cabinets back together.
Clean and scrub the cabinets with soap and water, including the doors, drawer fronts and shelves. This is crucial for the project. All the dirt, grime and grease that accumulated over the years has to come off. Wipe them down, with a vinegar solution of 1 cup of vinegar to a gallon of water, to get any soap residue left on after the scrubbing. Allow the cabinets to dry.
Sand the cabinets with 180-grit sandpaper. Wear a face mask and protective eyewear and sand any part of the cabinet you are going to paint. Sand in the direction of the wood grain. Sanding makes the surface accept the paint; without it the paint will peel off.
Vacuum the bulk of the dust off the cabinets, doors, drawer fronts and shelves. Use a tack cloth to remove the fine dust. Clean the cabinets one final time with a deglosser to remove any contaminate and soften the surface prior to painting. Purchase tack cloths and deglosser at hardware or home improvement stores. Put blue painter's tape around any areas next to the wall to keep paint from getting on the wall. Clean dust and debris away from the working area.
Apply the primer to the cabinets using a 6-inch paint roller. Use an acrylic water-based quick-drying primer made specifically for wood that has been finished. Let dry for two hours and apply another coat.
Select a paint that is gloss or satin and made especially for kitchen or bathroom cabinets. To avoid leaving brush strokes use a 6-inch roller to apply paint. Do not overload the roller with paint; it is best to apply several coats of thin paint rather than one thick coat. Check the label on the paint to see how long the paint needs to dry in between coats.
Allow the paint to dry overnight. Attach hinges and handles and hang the doors back on the cabinets.
Things You Will Need

Screwdriver
Soap
Vinegar
Sandpaper, 180 grit
Face mask
Protective eyewear
Vacuum
Tack cloth
Deglosser
Blue painter's tape
6-inch paint roller
Acrylic water-based primer
Paint made for cabinets
Tips
Set up a small temporary kitchen in another part of the house.

Do not try to rush the drying process.