How to Reface Melamine Cabinets
Most people think that melamine cabinets can be difficult to remodel since the plastic-like surface is notorious for being hard to paint over. But this reputation is unnecessary. With a primer made to adhere to plastics and difficult surfaces, you can have your cabinets refaced in a weekend. And if you prefer something less messy or want a wood finish, contact papers are an easy option. Contact papers allow you to get extremely creative with various finishes without a mess or emptying your wallet.
Painting the Cabinets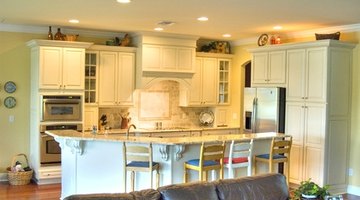 Sand the cabinet with 200-grit sandpaper to remove finishes or residue.

Remove sanding particles and dirt with a clean tack cloth.

Apply a primer made to adhere to plastics to the cabinets, such as Aqualoc or Rustoleum Plastic Spray Primer. Apply a single thin coat with a foam brush or roller and let dry for about an hour. Apply a second coat of primer and allow it to dry fully before proceeding to the next step.

Apply a latex acrylic paint with a foam brush or roller in long, even-handed strokes. Let this coat dry for about two hours before applying a second coat. A third coat may be necessary depending on what color you are covering. You may also use a spray paint.

Wipe on a clear varnish with a clean cotton rag. Follow the directions specified on your chosen wipe-on varnish.
Covering with Contact Paper/Veneer
Lightly sand the surface of the cabinets to remove any residue or dirt.

Remove dirt and sanding particles with a clean tack cloth.

Disassemble the cabinets, removing all doors and drawer fronts. Measure each cabinet piece with a measuring tape.

Place a cutting board on top of your cutting surface to prevent any damage to your table or countertop.Cut the contact paper according to the measurements taken, using a sharp utility knife.

Apply the contact paper to the cabinets by starting at a corner and slowly moving across the top of the cabinet. Gradually move downward, making sure you avoid any bubbling along the way. Use a rubber brayer to eliminate light bubbling that might occur along the way.
Check out this related video from Homesteady on Youtube.
References
Resources
Tips
Test all paints on small areas to make sure it sticks.
The contact paper is best when applied with the help of a second party.
Warnings
Apply all paint in well ventilated areas.
Writer Bio
Darren White is a third-year student studying photography and art history at Haverford College. Raised in the Philadelphia area, he has followed its art scene for some time, which has influenced his column, The Fashion File, that he writes for the "Bi-Co News." He also writes, edits and photographs for Haverford's fashion magazine, "Feathers & Fur."
Photo Credits
More Articles