Ford Tractor Specifications Over Time
Table of Contents
Ford was a large tractor manufacturer in the twentieth century, releasing top-notch models still recognized now. The N-Series tractors, Ford's original design, quickly became an industry standard and its designs are used today. Ford continued making popular tractor models until its purchase in 1990.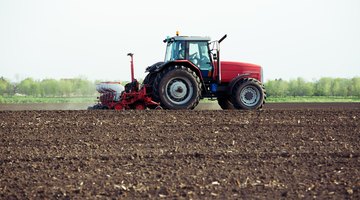 Henry Ford, in partnership with engineer Harry Ferguson, began producing tractors in 1939. Ford quickly became the go-to for tractors in America due to the company's innovative designs and quality machinery.
Their first models were the N Series tractors, arguably the most popular model and the basis for all future models.
N Series Tractors 1939-1952
Three models, the 9N, 2N and 8N, were produced by Ford in this historical era. The 9N tractor was the first American-made tractor produced to incorporate the three-point hitch system, a way of joining two objects to allow weight transfer that gives tractors traction. This innovative design is still used today.
When the 9N was introduced in 1939, it became an industry standard tractor model. There are popular modern tractor models, but they all stem from the 9N's solid design.
The 2N tractor included a pressurized radiator and improved headlights. This model evolved into the 8N, which featured a 4-speed transmission and became the top-selling tractor of all time in North America. The 9N and 2N models both had 3-speed transmissions. The 8N also had increased power takeoff capabilities and increased horsepower.
"1" Series Tractors 1957-1962
Tractors in this series were popular due to their variance in size. Each model had the same engine type but varied in terms of configuration. The "501" models were high clearance, the "601" were utility tractors and the "701" were for row crops. Farmers could choose their models according to their needs, knowing they all had powerful engines.
"Thousand" Series Tractors 1961-2000
Ford wanted to add even more power, so the company introduced this series of new and improved tractors. The tractors were typically under 50 horsepower. These models had solid construction but couldn't compete with the high horsepower of newer tractors from other growing companies.
"FW" Series Tractors 1977-1982
The FW-20, FW-30, FW-40 and FW-60 tractor models were created to compete with other brands, introducing a high power tractor to meet the growing demand for powerful farming machinery. The tractors ranged from 210 to 335 horsepower, the highest in company history. These tractors were a go-to for farmers who needed extra power to work.
"TW" Series Tractors 1983-1986
Compact and efficient was the vision for this series. TW tractor models were much smaller than those in the FW series but had similar power takeoff capabilities as their larger alternative. The FW series did have more horsepower than the TW series tractors, but the TW series proved to be popular among farmers who needed a tractor to perform smaller, detailed work well.
Ford's farm equipment group was sold to Fiat in 1990.
References
Writer Bio
Lauren is a Pacific-Northwest-based writer and is almost always accompanied by her adorable puppy sidekick, Ruby. She loves crafting, exploring and all things writing.
More Articles