How to Replace a Belt on an Electric Hotpoint Dryer
General Electric's Hotpoint dryer has been around for years, so the belt that turns the drum holding the clothes could wear out and start slipping. Hotpoint is one of the easier dryer models to disassemble. Refer to your owner's manual when working on your dryer.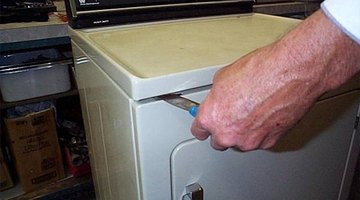 Things You Will Need
Screwdriver with interchangeable bits
Putty knife
New dryer belt for GE Hotpoint electric dryer
Tip
Belts for just about any dryer make and model are easily ordered online.
Warning
Always unplug any appliance before working on it.
Unplug the dryer and pull it out from the wall. Take out the upside-down screws in front that hold down the top. In older Hotpoint models, they will be under the rim of the top in front. In newer models, they will be on the inside of the dryer door opening, facing up. Slide your putty knife under the top rim to pry it up and get your fingers under it. Lift the top off the machine and set it aside.

Take out the screws that hold the front of the dryer in place, which will be on the upper inside of the box, on either side, facing toward the front. Pull the dryer front off. Keep the side with the wire connections next to the dryer (so you don't have to disconnect the wires) while opening the other side away from it like a door. The wiring side will vary.

Slip the belt off the dryer drum from the front. It won't come out completely; it will be held in one lower corner by the motor assembly.

Remove the access panel on the lower part of the back of the dryer by removing the screws. Access the motor unit. Note the configuration of the belt in the pulleys, then slip the belt off the pulleys by pushing the larger pulley forward.

Slip the new belt onto the drum from the front, with the ribbed side against the drum. Re-string it on the pulleys from the back, in the same configuration as the old one. Manually turn the drum several revolutions to make sure the belt is straight.

Put the rear access panel back on with the screws you took out. Close and re-secure the front and top (in that order) as they were before. Plug in the dryer.